By Bill Mears
CNN Supreme Court Producer
WASHINGTON (CNN) -- Current and former top Bush administration officials may have caught a break from the Supreme Court Wednesday on whether they can be held personally liable for the alleged mistreatment of those detained after the September 11, 2001, terrorist attacks.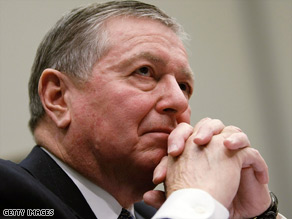 Ex-Attorney General John Ashcroft is accused of ordering the jailing of Muslim immigrants after the 9/11 attacks.
The justices heard arguments in the case of a man arrested in the days following the terror attacks. However, they appeared uneasy about allowing former Attorney General John Ashcroft and FBI Director Robert Mueller to be subject to discovery, or pre-trial depositions, in the ongoing civil lawsuit.
"What you have to show is some facts," said a skeptical Chief Justice John Roberts to the lawyer for the Pakistani native bringing the suit, "showing that they (top officials) knew of a policy that was discriminatory based on ethnicity and country of origin."
Javaid Iqbal, 41, was arrested in New York two months after the 9/11 attacks as part of a broad sweep of hundreds of mostly Muslim immigrants in the New York area. Most were held on alleged immigration violations while investigators could determine if any had links to terrorism plots.
Iqbal was never charged with any terrorism offenses, although he was convicted of fraud for having false papers and eventually deported nearly six years ago.
Iqbal later filed a series of lawsuits against top Bush officials alleging he was beaten by guards during his six-month detention in solitary confinement, and that officials personally condoned isolating Muslim and Arab immigrants in a Brooklyn prison wing.
Ashcroft and Mueller were among those sued in their personal capacity, not just their professional one, meaning they could be held personally liable. They have denied holding and segregating anyone after the terror attacks because of their religious beliefs or ethnicity.
The government said a ruling in the Iqbal case would be a "blueprint" in the future for establishing a "plausible" argument of wrongdoing before top officials could be subject to civil liability.
Solicitor General Gregory Garre said the "extraordinary context of the 9/11 attacks and the aftermath" was justification for the FBI and Justice Department to investigate whether a larger conspiracy of terrorists were operating in the United States. That led to the detention of the Muslim immigrants, a general policy which Garre admitted Ashcroft and Mueller had approved. But he added, "These are people who are responsible not only for litigating divisions within the Justice Department, the FBI, the Drug Enforcement Agency, these are people who have extraordinarily busy schedules."
"The Attorney General is very busy and what he does is important," replied Justice Stephen Breyer. "The president of Coca-Cola is very busy. The president of General Motors is very busy -- and very busy at the moment. His remark drew laughter in the courtroom, on the day a government bailout of the domestic auto industry was being considered in Congress.
Breyer worried about officials being harassed, but he and his colleagues searched for how much discretion trial judges would have to dismiss a nonsense lawsuit that would only waste the valuable time of government leaders.
Justice Ruth Bader Ginsburg suggested the judge could tell the litigant's lawyer, "I'm going to read the Riot Act to you if it turns out that this is a frivolous petition."
"Reading the Riot Act to the lawyer is protection against the Attorney General and the Director of the FBI, after they're hauled in for discovery or subjected to depositions if the judge finds out there wasn't a sufficient basis (for the lawsuit)?" interjected Roberts.
"It's certainly not adequate protection," Garre replied eagerly.
Things would have "been made much easier if one of the defendants [Mueller or Ashcroft] had filed an affidavit denying those allegations, but nobody has done that in either case," said Justice John Paul Stevens.
Alexander Reinert, Iqbal's attorney, faced tough questioning from the justices when he said, "This case is not about ad hoc decisions made at the low level of the Department of Justice. This is about a policy approved with the knowledge of petitioners that discriminated against detainees."
"There is no question that there was a policy, and it was known and approved" by Ashcroft and Mueller among others, said Justice Samuel Alito. "But that policy is different from the policy you allege, and that's the question."
Justice David Souter appeared torn by arguments on both sides, but he expressed some concern to Reinert with whether low-level federal officials "were making decisions on an ad hoc basis without adequate criteria as to how they should make them. That particular line of allegations suggests that what was really going on here, including what was happening to your client, wasn't the result of clear policy decisions by the Attorney General and the Director of the FBI, but they were just being scattered."
A federal appeals court had ruled for Iqbal, but suggested the lawsuit against Mueller and Ashcroft be put on hold until after questioning of some of the 32 other lower-level government workers named in the suit, to see if any evidence of high level involvement was uncovered. That could give a divided Supreme Court an opportunity to rule narrowly on the specific facts of the case, without a bright-line rule on personal liability for cabinet-level officials and lawmakers.
Iqbal, who remains in Pakistan, claims in his lawsuit he was taunted with verbal abuse over his religion by prison staff and given random strip searches. He also alleges physical abuse, including being thrown against a wall, punched in the head and kicked in the stomach. Iqbal was cleared of any terrorist involvement, but did plead guilty to fraud, leading to his deportation.
The Justice Department's Office of Inspector General issued a report in 2003 that found "significant problems" -- including physical mistreatment and verbal threats -- over the treatment of immigrant detainees like Iqbal at the Brooklyn prison facility.
A ruling in the case is expected by June.
E-mail to a friend

All About U.S. Supreme Court • John Ashcroft • Robert Mueller