From Jomana Karadsheh
CNN
BAGHDAD, Iraq (CNN) -- U.S. prosecutors met Saturday with dozens of Iraqis to discuss the case of five former Blackwater Worldwide guards accused in a shooting that killed 17 in 2007.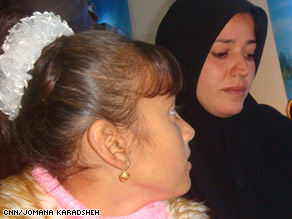 Milad Khalil Ibrahim, who lost her husband in the shooting, sits next to her daughter.
Relatives of victims, survivors and witnesses to the deadly melee met with prosecutors for nearly four hours behind closed doors at the National Police Headquarters in Baghdad near Nisoor Square, where the shootings took place September 16, 2007.
The meeting was intended to explain the indictments against five former Blackwater guards facing manslaughter and other charges stemming from the shooting, Assistant U.S. Attorney Kenneth C. Kohl said.
The men were freed on their own recognizance after turning themselves in to federal authorities this month in Salt Lake City, Utah.
A sixth former security guard has pleaded guilty to voluntary manslaughter and attempted manslaughter.
"We had individuals here on crutches and others who were wounded," Kohl said. "We just gave them information about charges in the United States and ... what we anticipate would happen in court in Washington."
Kohl was accompanied in Baghdad by Assistant U.S. Attorney Jonathan M. Malis, also from the Washington office, and trial attorney Barry Jonas of the U.S. Justice Department's National Security Division. The three are handling the federal prosecution of the former security guards.
Few Iraqis who attended the meeting would talk publicly afterwards, saying they were advised not to speak to the media.
Others, however, said that they were told they will travel to the United States to testify and that they will be notified of dates.
One man who was wounded said that what he heard in the room was nothing new and that he already understood the charges. A number of victims complained about how long the process is taking.
Don't Miss
Some of the Iraqis who attended the meeting said the prosecutors were asked questions about why only six guards were held accountable. At the time of the incident, many witnesses and survivors claimed that helicopters hovering overhead also opened fire.
Before the meeting, two women whose husbands were killed in the shooting told CNN that their lives had changed drastically since they lost their husbands. Both said they are unemployed and struggling to support their children.
The two men, who were cousins, were in a car, traveling in search of jobs when they were killed, the women said.
One of the widows, 25-year-old Milad Khalil Ibrahim, said she and her three small children live on what money she receives from her family.
As tears rolled down her cheeks, she said she wants justice and financial compensation. But -- pointing to her children, who are 5, 7 and 8 years old -- she said even that "will not bring back their father."
The 35-count indictment charges each of the five former guards with 14 counts of manslaughter, 20 counts of attempted manslaughter and one count of using a firearm in the commission of a violent crime.
Prosecutors did not bring manslaughter charges for three of the 17 deaths because they do not think they have enough evidence to win a conviction in those deaths.
If convicted, the defendants will face a maximum sentence of 10 years in prison for each manslaughter count, seven years in prison for each count of attempted manslaughter and a 30-year mandatory minimum sentence for the firearms charge.
The Justice Department identified the defendants as Donald Ball, 26, of West Valley City, Utah; Dustin Heard, 27, of Knoxville, Tennessee; Evan Liberty, 26, of Rochester, New Hampshire; Nick Slatten, 24, of Sparta, Tennessee; and Paul Slough, 29, of Keller, Texas.
The former guard who entered into the plea bargain was identified as Jeremy P. Ridgeway, 35, of California.
At the time of the indictment, Mark Hulkower, defense attorney for Slough, blamed the killings on insurgents who used civilians as "shields" in Iraq. Hulkower said his client and the other defendants were just trying to do their jobs in a very chaotic situation.
"These young men were fighting for their lives in a crowded area," he said.
Blackwater claims that its employees were returning fire after coming under attack from armed insurgents, but an Iraqi investigation concluded that the guards randomly fired at civilians without provocation.
The company of Blackwater Worldwide will not face any charges.
None of the guards charged in the case has worked for Blackwater since 2007, said Blackwater spokeswoman Anne Tyrrell.
Their next court appearance is scheduled for January 6 in Washington.
E-mail to a friend

All About Iraq • Blackwater Worldwide