From Emily Anderson
CNN
NEW YORK (CNN) -- A New York police officer who appears in a YouTube clip to knock a bicyclist to the ground during a mass bike ride in Times Square has pleaded not guilty to assault charges stemming from the incident, his attorney Stuart London said Tuesday.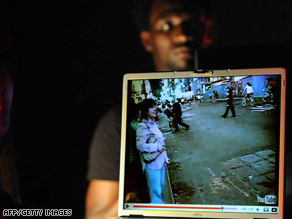 The YouTube video of cyclist Christopher Long getting body-checked has been seen by millions.
Officer Patrick Pogan was indicted Tuesday on three misdemeanor and two felony charges by Manhattan District Attorney Robert M. Morgenthau. He was released without bail.
The charges stem from a YouTube video clip showing Pogan body-checking cyclist Christopher Long from his bike during a ride by the group Critical Mass on July 25.
According to the Critical Mass Web site, the event "is a monthly bicycle ride to celebrate cycling and to assert cyclists right to the road."
Pogan arrested Long and charged him with disorderly conduct, resisting arrest, and obstructing governmental administration. Pogan was placed on desk duty following the incident.
The District Attorney's office investigated the matter and alleges that Pogan falsified information in the paperwork for the arrest and the subsequent criminal court complaint, saying that Long intentionally rode his bike into Pogan.
Don't Miss
"In fact, the incident was videotaped and showed a far different set of facts," according to release from D.A. Morgenthau.
"The video, which was posted on the Internet, showed Pogan singling out Long and purposely body-checking Long off the bike."
Pogan was charged with falsifying business records and filing a false instrument, which are felonies punishable by up to four years in prison.
He also faces misdemeanor charges of making a punishable false written statement, second-degree harassment and third-degree assault.
During a news conference Tuesday, Police Commissioner Raymond Kelly said, "It's certainly sad and disappointing to see any officer indicted, particularly one who had only been out of the Police Academy three weeks."
Pogan is scheduled to be back in court for a hearing on February 4.
E-mail to a friend

All About YouTube Inc. • New York City • Bicycling