(CNN) -- A jury has found five men guilty of conspiring to kill soldiers at Fort Dix, New Jersey, a spokesman for the U.S. Attorney's office said Monday.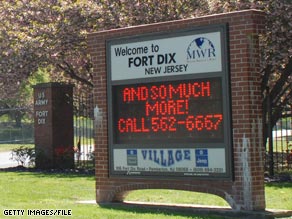 Five men were accused in a plot to kill soldiers at Fort Dix in New Jersey.
The defendants were acquitted of attempted murder charges but face life in prison.
The jury spent six days deliberating.
Six men were arrested on May 7, 2007, in New Jersey, as two of them were meeting a confidential government witness "to purchase three AK-47 automatic machine guns and four semi-automatic M-16s to be used in an attack they had been planning from at least January 2006," according to a criminal complaint.
The sixth defendant, Agron Abdullahu, pleaded guilty in October to a reduced charge of providing firearms to illegal aliens and received a sentence of 20 months in prison and three years of supervised release.
"For the 12 of us involved in these deliberations, this has been one of the most difficult things we've ever had to do," the jury said in a written statement given to the news media, according to CNN Radio affiliate KYW. "We have not reached our conclusions lightly. The burden imposed on us has been heavy but we are confident that our verdict has been reached fairly and impartially."
For the conspiracy conviction, each of the defendants faces a sentence of as much as life in prison. They are to be sentenced in April.
Abdullahu told the court in October that, from January 2006 to May 2007, he and Turkish-born Serdar Tatar, 25, provided firearms to brothers Dritan Duka, 30; Shain Duka, 27; and Eljvir "Elvis" Duka, 25.
The Duka brothers, born in the former Yugoslavia, were in the United States illegally.
Tatar and Abdullahu are both legal U.S. residents. The other defendant, Jordanian-born Mohamad Ibrahim Shnewer, is the only U.S. citizen among them.
The jury found one member of the group conducted surveillance at Fort Dix and Fort Monmouth in New Jersey, Dover Air Force Base in Delaware and the U.S. Coast Guard facility in Philadelphia, Pennsylvania, the U.S. attorney's office said in a written statement.
The alleged Fort Dix plot came to light when two men gave an 8 mm videotape to a clerk at a Circuit City store in Mount Laurel, New Jersey, and asked him to convert it to DVD format.
Authorities said the tape showed 10 young men shooting at a practice range and shouting in Arabic, "Allahu Akbar," or "God is great."
The clerk, Brian Morgenstern, said the video showed the men with handguns and rifles that appeared to be "fully automatic weapons."
"I saw some stuff on the film that was disturbing and it kind of gained my attention that way," he told CNN in May 2007.
Morgenstern alerted the police, who initiated the investigation into the men, who were living in Philadelphia's southern New Jersey suburbs.
Michael Riley, the lawyer for Shain Duka, said he will appeal the verdict.
"It's a certain time in our history where these certain types of allegations are very troublesome, and it's very difficult," he said. "It's disappointing when it doesn't come out the way you think it should."
Tatar's lawyer, Richard Sparaco, predicted an appeal would be filed on behalf of all the defendants.
U.S. District Judge Robert B. Kugler scheduled sentencing for the Duka brothers for April 22 and for Shnewer and Tartar on April 23.
E-mail to a friend

CNN's Aurore Ankarcrona contributed to this story
All About Fort Dix • U.S. Armed Forces Activities