WASHINGTON (CNN) -- Starting Monday, FDA inspectors will expand the salmonella search beyond tomatoes to include cilantro, jalapeņo and serrano peppers, scallions and onions.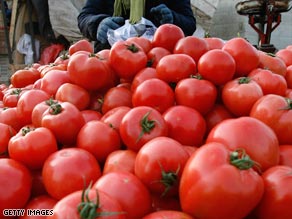 Tomatoes have been the suspected source of a salmonella outbreak, but other foods are being looked at.
The federal Food and Drug Administration said it is going to test some foods from Mexico for salmonella before they enter the U.S. market as part of the agency's investigation into the recent salmonella outbreak.
The samples will be taken to warehouses, where they will be subjected to testing.
"If [the sample] tests negative, it's open to release" into the marketplace, David Acheson, FDA's associate commissioner for food protection, said Saturday.
"The amount of testing is unlikely to have a significant impact to the flow of products into the U.S.," he added.
A former director of the Food and Drug Administration's import operations said the expanded search raises a number of questions about the salmonella investigation.
"Where's the contaminated product?" asked Carl Nielsen. "How would you know? And where along the supply chain did it happen? Was it at the retail level? Is somebody doing something to expose the product at the retailer? Is it at the wholesale? Is it at the grower? Is it at the processor? Is it in transport? Where is it? They don't know."
Acheson said the FDA is continuing efforts to backtrack the spread of the salmonella to figure out which product or products are responsible.
Although the source of the outbreak of the rare form of bacteria -- Salmonella Saintpaul -- remains unknown, it has produced many casualties, including a $450 million slice off tomato growers' income, said Tommy Thompson, former secretary of the Department of Health and Human Services.
"You don't even take into consideration the thousands of people that have been sick, and how much it's cost in drugs, loss of time and mental anguish for people who are sick," he said.
The Centers for Disease Control and Prevention last week reported that since mid-April the salmonella outbreak has infected 943 people in 40 states, the District of Columbia, and Canada.
The person in the Canadian case became ill in Ontario on the day of return from a trip to the United States, the CDC said.
Last year during the same period, U.S. health authorities identified three people infected with the same strain.
E-mail to a friend

CNN's Louise Schiavone contributed to this story.
All About Centers for Disease Control and Prevention • Food and Drug Administration