From Matt Sloane and Susan Roesgen
CNN
NEW ORLEANS, Louisiana (CNN) -- Three years after Hurricane Katrina taught New Orleans' medical community some painful lessons, hospitals here are trying to learn from past mistakes.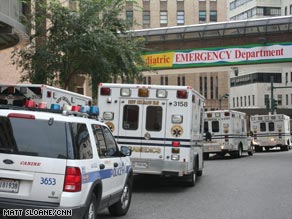 Only the sickest patients will remain at New Orleans' Tulane Medical Center after ambulances carry the rest to the airport.
At Tulane Medical Center, evacuations began early Sunday as a long line of ambulances took patients to the airport. From there, they were flown to hospitals outside the zone threatened by Gustav. Only the sickest patients will remain at the hospital.
During Katrina, 1,600 people sheltered at the Tulane hospital. This time, only 450 patients, staff and family members are expected to remain. Patients are allowed one family member to stay with them.
"The lesson learned last time is, don't have lot of patients in your hospital unless it is absolutely necessary, and don't have too many staff," said Bob Lynch, the hospital's CEO.

Watch a report on Tulane's evacuation plans »
"A lot of planning, a lot of coordination has gone into the preparation for hurricanes after Katrina," Lynch said. "People really understand the need for being prepared down here." iReport.com: Are you there? How did you prepare?
Lynch says his hospital prepared by bringing in a lot of supplies.
During Katrina, generators at some New Orleans hospitals were flooded after levees broke. Many hospitals didn't have enough fuel to run for more than a few days.

View a slideshow about the evacuations »
Lynch said his downtown facility now has a generator system robust enough to power the entire building for three weeks, including the air conditioning. The generators are protected with a flood wall and a sump pump to remove any water that seeps in.
Don't Miss
In 50 years, New Orleans Children's Hospital has locked its doors only once -- during Katrina. This time, the hospital plans to stay open regardless of what happens.
"If every time a hurricane came to the community... we move all patients, I think we would find some of our patients would not survive, " says Brian Landry, Children's vice-president for marketing.

Watch a report on the Children's Hospital evacuation plans »
Like Tulane, Children's has stockpiled three weeks' worth of supplies, food and fuel.
Eighty patients remain at New Orleans Children's Hospital, more than half of them in a critical care unit. Nurse Crystal Mayeaux says she will not leave them.
"We are attached to all the babies here, she says. "They know us."
Parents are allowed to stay with their children.
Tracy Bayley can't bear to tell her 4-year-old son Cameron about the hurricane that's on the way. The boy had open-heart surgery just 10 days ago.
"He knows there is a little storm coming, but as long as I am here, he's happy," she said.
E-mail to a friend

All About Hurricane Katrina • Natural Disasters • New Orleans • Hurricane Gustav