By Linda Saether
CNN
(CNN) -- Remember that old adage, "You can never be too thin or too rich"?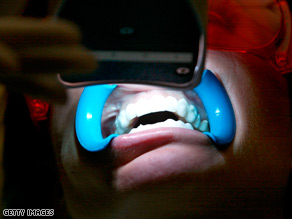 Ultraviolet light treatment, shown here at Smilestudio in London, England, is one way to whiten teeth.
You can add to that list: too white -- your teeth, that is.
We are a nation seemingly obsessed with the pursuit of that whiter, more dazzling smile.
In fact, teeth whitening has become the country's No. 1 requested cosmetic dental procedure, according to the American Academy of Cosmetic dentistry.
Some dentists even go so far as to say that we just might be a little out of control.
"Oh yes, people have become obsessed, " says cosmetic dentist Susan Estep, whose practice, Atlanta Dental Spa, does a brisk business in teeth-whitening. "I think we have whitening disorder, just like we have eating disorders. I have people who come in and their teeth are as white as a windowpane and they say their teeth are yellow and want to get them whiter. "
Estep then tries to give these ultra-white teeth owners some perspective.

Health for her: How white should your teeth really be? »
But it's hard to get that perspective when everywhere you turn everyone's smile seems to be a product of Witeout. There's also no shortage of ways to come into that white tooth light. The main differences seem to be cost and professional oversight versus convenience and over-the-counter availability.
Don't Miss
Estep explains the three technologies. The first is an in-office system that uses a higher-concentration peroxide to get faster results. The second involves bleaching gel in trays custom fit to an individual's teeth applied intermittently over a couple of weeks. The final way is also the cheapest: Over-the-counter options that can be strips, gels or plastic trays.
Whitening is safe, Estep and other experts say, as long as people follow the directions and use a product that carries a seal of approval from the American Dental Association.
However concerns are growing over whether the quest for sparkling white teeth is starting too early, with possible consequences ranging from nuisance to nightmare.
If a young person uses these products before his or her permanent teeth are completely and fully grown, "then the whitening makes no sense," says Dr. Mickey Bernstein, president of the American Academy of Aesthetic Dentistry. In those situations, if the teeth are bleached and then more surfaces are exposed due to normal tooth maturation, the new growth and the older bleached tooth might not match. That might leave a two-toned appearance, not exactly the dazzling white look originally sought.
A less severe problem is gum sensitivity. The bleaching agent can irritate teeth and gums, but usually the problem is short-lived.
In more acute cases, which occur in younger patients, treated teeth or gums become extremely sensitive. Those people should take some time off from the process.
Health Library
"It's sort of like kids and sunscreen," Bernstein says. "If kids go out and get sunburned, then they need to go inside and take some time away from the sun."
If they won't, he urges parents to step in and force the issue.
While most dentists agree that whitening, done properly, usually doesn't damage the teeth, they urge those who are thinking of bleaching, whether professionally or through over-the-counter products, to first talk to a dentist.
"One of the reasons we want people to do this in a professional setting is that sometimes teeth are dark for reasons of trauma or decay," Estep says. "That is important, and sometimes if the teeth are whitened, it will mask that problem that we could have found out if they had had an exam before they start the whitening process."
Because in the end, after all that whitening, you do want to be sure that where your mouth is concerned, you still have plenty to smile about.
E-mail to a friend

All About Cosmetic Dentistry