WASHINGTON (CNN) -- A panel of experts accused the Food and Drug Administration of creating "a false sense of security" with its assessment that a compound used to make food and beverage containers poses no immediate health risks.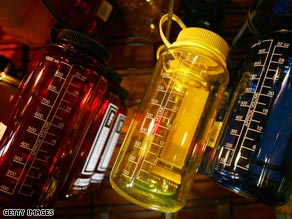 Bisphenol A is commonly used to make containers like these Nalgene brand water bottles. On its Web site, Nalgene says it is switching to new materials.
"The margins of safety defined by FDA as adequate are not adequate," said Martin Philbert, chairman of a seven-member subcommittee commissioned by the FDA's Science Board to review the agency's findings regarding bisphenol A.
The FDA has said that current permissible levels of exposure to BPA, which is used in hard clear plastic water bottles, baby bottles and the linings of food cans and soft drink cans, pose no immediate risks to the general public, including infants.
But a subcommittee charged by the Science Board to review that assessment released a 17-page report this week challenging that conclusion, taking the FDA to task for excluding from review studies that the agency said had flaws.
"This approach creates a false sense of security about the information that is used in the assessment ... as it overlooks a wide range of potentially-serious findings," the report said.
The Science Board voted unanimously Friday to accept the seven-member subcommittee's assessment, expressing concern over the data and calling upon the agency to consider additional studies.
"The FDA has until February 2009, the next meeting of the Science Board, to respond," FDA spokesman Michael Herndon said. "But the agency feels confident that it will be able respond before that date."
That timetable did not appease the Environmental Working Group and Consumers Union, which urged the board to ban the chemical immediately.
Animal studies show that BPA may mimic estrogen, advancing the onset of puberty and increasing the risk of cancer.
In April, Canada became the first country to ban the use of bisphenol A in baby bottles.
But the FDA implied that Canada's decision was an overreaction.
"The FDA notes that Health Canada's assessment of bisphenol A on newborns and infants up to 18 months of age concludes that exposure levels are below the levels that could cause health effects," the agency said in a posting on its Web site. "Out of an abundance of caution, the government of Canada is taking steps to restrict the use of BPA."
FDA Commissioner Andrew von Eschenbach said the agency would study the report with deliberation before making any decision.
"We cannot short-circuit or avoid this process of rigorous analysis, critical assessment and stringent validation," he said.
"Only then will we have the strong scientific foundation upon which to make an enduring regulatory decision to approve a product, change a drug label or issue a call for change in or removal of a product."
E-mail to a friend

CNN's Saundra Young contributed to this report.
All About Food and Drug Administration • Health Canada