(CNN) -- The Food and Drug Administration has begun blocking the import of milk products from China in an effort to ensure that products contaminated with melamine do not enter the U.S. market.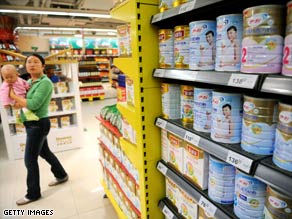 Over 53,000 infants in China were made ill after consuming infant formula containing melamine.
The agency, in an alert posted Wednesday on its Web site, ordered the "detention without physical examination of all milk products, milk-derived ingredients and finished food products containing milk from China due to the presence of melamine and/or melamine analogs."
The agency listed dozens of products, including cereals, snack foods, cheese, ice cream, carbonated drinks, candy, puddings and pet foods as potentially contaminated with melamine, which is used in the manufacture of plastics and fertilizer.
The agency said it learned in September that more than 53,000 infants in China became sick after consuming infant formula containing melamine. Nearly 13,000 were hospitalized and at least four died of illnesses involving the formation of kidney stones and crystals and related complications, it said.
It said water is added to milk to increase its volume, and melamine is added to the mixture to boost its nitrogen content so that it appears to contain more protein.

Learn more about chemical melamine »
"These contaminated milk components appear to have been dispersed throughout the Chinese food supply chain," the agency said.
More than 13 countries in addition to the United States have reported finding contaminated milk products from China, the FDA said.
E-mail to a friend

All About Food Safety • China • Food and Drug Administration