LONDON, England (CNN) -- Commonly thought of as a Victorian disease, tuberculosis, or TB, remains a persistent global health problem. It is a common disease of the lung that is airborne and highly contagious.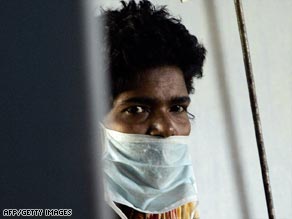 If left untreated, tuberculosis can be deadly. It is found everywhere in the world.
Many myths and misconceptions abound about TB. But how much do you know about the disease? Here, CNN compiles TB's killer facts:
-- Every 20 seconds, someone in the world dies of TB.
-- Two billion people, or about one-third of the world's population, are infected with the bacteria that causes TB.
-- About one out of every 10 of those people will develop active TB.

-- If left untreated, a person sick with TB in their lungs can infect 10 to 15 people a year.
-- TB is the leading infectious killer of people living with HIV/AIDs in the world.
-- Some 9.2 million new cases of tuberculosis occurred worldwide in 2006, up nearly 40 percent from 1990, due mostly to population growth.
-- India had the highest number of new absolute cases, followed by China, Indonesia, South Africa and Nigeria.
-- Just 22 countries account for 80 percent of the worldwide cases of TB. The disease is most prevalent in developing countries.
-- Multidrug-resistant TB, a form of TB that does not respond to the usual drugs and must be treated with special drugs, has proliferated in recent years and causes about 130,000 deaths annually.
-- An even more extreme form of TB, known as XDR-TB, is virtually uncurable. Cases have appeared around the world.
Source: World Health Organization
E-mail to a friend

All About Tuberculosis • World Health Organization • Contagious and Infectious Diseases