By Madison Park
CNN
(CNN) -- Kelly Haws noticed a colleague who had sworn off sweets enjoying a chocolate doughnut. The doughnut, Haws was told, didn't count as a sweet because it was "breakfast food."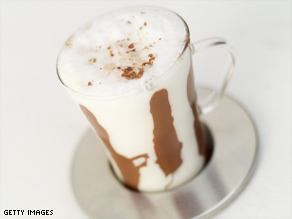 A study found that people with less self-control categorized lattes and hair highlights as necessities.
By calling it breakfast, the dieter had turned the doughnut into a necessity.
"When you start re-categorizing like that -- if you even make small concessions -- you get further and further from reaching your goals," said Haws, an assistant professor of marketing at Texas A&M University.
Haws and co-author Cait Poyner wrote in a study published in the Journal of Consumer Research that people often have trouble distinguishing between necessity and luxury. Those with less self-control considered more items as necessities, such as daily lattes and hair treatments.
"People spend a couple hundred dollars on hair highlights, and they absolutely consider that a necessity. ..." Haws said. "The key problem we find is that they're not good at categorizing."
People start the new year with well-intended goals to lose weight or save money, but often give themselves so much leeway because they consider many items as necessities, she said.
This could explain why ambitious plans to shed weight or save money falter before January is over. "Most people fail over and over again," Haws said.
Perhaps that's why 60 percent of surveyed adults said they're not likely to make any New Year's resolutions this year, according to a national poll released Monday by the Marist Institute for Public Opinion. The margin of error was plus or minus 3 percentage points.
Of the adults in the survey who said they would make New Year's resolutions, losing weight, quitting smoking and spending less were ranked the top three goals. iReport.com: Tell us your New Year's resolutions
And people who falter on their goals offer a vigorous defense of their relapses -- to themselves.
"People are good at justifying the temptations," said Kentaro Fujita, an assistant professor of psychology at Ohio State University. "They're very creative about it. If you're creative about it, you end up justifying every indulgence."
Fujita gives this example: A dieter decides not to exercise today because of fatigue or a long work day.
After dinner, that dieter eats dessert and tells himself or herself that it's just one pastry. One dessert won't cause obesity, and besides, it's been such a stressful day.
Then the whole cycle repeats the next day and one after, which puts the goal of losing weight further out of reach.
"You feel guilty because you have to make decisions and you need to come up with a story that makes sense why you made a horrible decision," Fujita said.
To stay on track with a resolution, he offered this advice: The moment that you're having the dilemma, remind yourself of your bigger goal.
Health Library
"People are resistant to things that are uncomfortable or have them feeling deprived," Haws said. "It's against human nature to feel you're not getting what you want."
In the study, the subjects categorized the following as necessities: bottled water, umbrella, laptop, lamps, suits, Internet service and mouthwash. They listed these as luxuries: gym membership, soft drink, beer, coffee, cable and bicycle.
In the study, people with higher self-control had fewer necessities. Those with less self-control had more necessities and make more concessions.
"To really have a better chance of meeting the ultimate goal, there's got to be more thought and rigidity from the beginning," Haws said.
Resolutions remain unfulfilled because they're often lofty and ambiguous, and lack a specific action plan, Haws said. So she suggested examining the necessity and luxury categories, and weeding out questionable choices.
E-mail to a friend

All About Self-Help • Diet and Nutrition