By Amy Burkholder
CNN
NEW YORK (CNN) -- Imagine what a pacemaker does to your heart: Its electrical impulses regulate a heartbeat that's out of whack.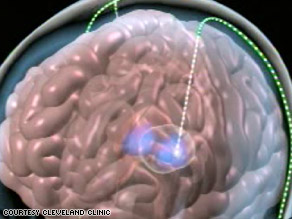 In deep brain stimulation for depression, tiny electrodes are implanted into a specific node of the cerebral cortex.
Now picture a pacemaker-type device that jolts the brain and regulates mood circuits, potentially easing deep depression no other treatments can touch.
In what some are hailing as a brave new use of existing technology, researchers presented evidence this week at the American Association of Neurological Surgeons' annual scientific meeting that deep brain stimulation does just that, improving both severe depression and obsessive-compulsive disorder, a frequent companion disorder.
"Depression is a physiological disorder, and basically we are regulating the abnormal signals to brain causing the depression," says Dr. Ali Rezai, director of the Center for Neurological Restoration at the Cleveland Clinic in Ohio. Rezai conducted the research along with scientists from Butler Hospital/Brown Medical School, Massachusetts General Hospital and Harvard Medical School.
Researchers used deep brain stimulation on 17 severely depressed patients. Those treated with deep brain stimulation had a 50 percent decrease in depressive symptoms after 12 months. Patients also reported a better ability to function, improved short-term memory and improved quality of life.

Dr. Sanjay Gupta explains how deep brain stimulation works »
Deep brain stimulation for psychiatric patients involves neurosurgeons implanting the device and psychiatrists adjusting the charge.
Surgeons place tiny implantable electrodes into a specific node of the cerebral cortex that is believed to be malfunctioning. The cerebral cortex, sometimes referred to as the "gray matter," governs information from the senses and movement, and regulates thought and mental activity.
From the cerebral cortex, wires are tunneled behind the ear into the chest, where there's a power source for the electrodes that emit electrical impulses into the brain. Scientists theorize this stimulation blocks the abnormal brainwave activity, easing the obsessions, moods and depressive symptoms associated with these psychiatric disorders.
Researchers stress that this is not an option for people who are mildly or occasionally depressed but rather for people suffering from major depression and for whom all other methods -- including psychotherapy, drug therapy and electroconvulsive therapy -- have failed. Researchers say it could ultimately prove life-saving for this population: The suicide rate among people with major depression runs as high as 15 percent.
"This research substantiates earlier findings which indicate DBS holds promise and hope for select patients suffering from severe and treatment-resistant major depression, Rezai said. "I feel that as we learn more about this rather new technology, efficacy will continue to improve."
According to the American Association of Neurological Surgeons, deep brain stimulation has been used in the past two decades to treat Parkinson's disease, multiple sclerosis and other tremor and pain disorders, with more than 35,000 deep brain stimulation implants worldwide. Potentially using it for depression and obsessive-compulsive disorder is just one example of expanding off-label use.
The idea of using an electrical jolt to shock away depression isn't new. Doctors have been using electroconvulsive therapy, in which a brief electric stimulus is used to produce a seizure, for decades. Rezai insists that this treatment is much more selective than electroconvulsive therapy, does not produce seizures and does not have the same cognitive and memory side effects.
"In this group of patients, we saw no major side effects," Rezai said, although deep brain stimulation can be associated with brain hemorrhage, and a there's a small risk of leakage of cerebrospinal fluid.
Even surgeons who are very conservative in advocating surgery for psychiatric disorders think deep brain stimulation could be a promising treatment for not only severe depression but a range of disorders.
"This sort of study opens the door to applying DBS to all sorts of psychiatric conditions, even eventually Alzheimer's disease and morbid obesity," said Dr. Michael Schulder, spokesman for the American Association of Neurological Surgeons and president of the American Society for Stereotactic and Functional Neurosurgery. He stressed that all studies on patients with psychiatric disorders need to be conducted carefully and with proper scientific rationale.
Researchers concede that using the brain pacemaker, manufactured by Medtronic Inc., to treat severely depressed patients is still years away. A clinical trial is being launched this year, and studies may be ongoing at least for the next four. Other companies, including St. Jude Medical Inc. and Cyberonics Inc., are also testing the technology, which they hope will treat the estimated 4 million adult Americans who live with severe depression, unresponsive to conventional treatments.
Researchers are energized by the treatment's long-range prospects. Said Rezai, "It is very promising news for the many suffering patients and their family members that have virtually given up hope."
E-mail to a friend

Amy Burkholder is a producer with CNN Medical News.
All About Depression • Parkinson's Disease • Medtronic Inc.