By Cal Perry
CNN Beirut Bureau Chief
DAMASCUS, Syria (CNN) -- Like millions of others, 37-year-old Wafaa al Nuaimi fled Iraq in the hopes of giving her three children a chance at a better life. But what separates her from the sea of humanity fleeing unimaginable violence is her dedication to her 8-year-old son, Mustafa, who has autism.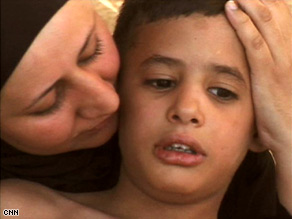 Wafaa al Nuaimi fled Iraq with her three children, including Mustafa, 8, who has autism.
Autism is something that is misunderstood under the best of circumstances, let alone a war zone. Wafaa understood all too well that Baghdad is no place for a child -- let alone a child who has autism.
Mustafa can speak, but he repeats himself a lot. He was affectionate with a stranger on a recent visit, but he can easily become overstimulated and withdraw.
His mother first tried to get him treatment in Iraq, to no avail; the situation simply was too dangerous. "What is preventing the development of specialized centers in Iraq is the war," she says. "In the end it used to take me five to six hours to get to the center -- most of the roads were blocked. We used to arrive around noon, and my son would miss the whole program because by the time we got there, we would have to return home."

Watch more of the refugees' story »
She tells how she reacted when she realized her son was disabled. "It's my destiny," she says. "When I had this child -- what was I to do? Sit and cry ... oh my God, no, no, no -- no. I will fight for them. I must do something for them and I succeeded," she says.
Don't Miss
She brought her children to Syria, but not before being turned back while trying to enter Jordan. The Jordanian authorities stamped her passport with a "five-year restriction" before sending her back. She could not believe it. She looks mystified as she tells the story. "My husband said to them, 'Please, what's the reason you are stamping us? To prevent us from entering the country for five years?' They looked at me and said, 'There is no reason. You are Iraqi.' When I heard this word -- I was shocked." Her husband has remained in Baghdad to continue his work as a doctor to support the family.
The United Nations High Commission on Refugees does not have exact statistics on refugees in Syria because they fluctuate so often with people coming into Syria and leaving without notifying the authorities. They can only estimate the number; roughly 1 million Iraqi refugees live inside Syria. Of those, only 210,000 are officially registered with the Syrian government. From those who are registered, one in five say they have been subjected to violence and torture inside Iraq. One in five have a serious medical condition.
Health Library
All of this is a huge strain on the Syrian government. Syria is one of only a few nations in the world that allows Iraqi refugees access to public education and health care, something of which Wafaa is keenly aware. "We are a large number," she says, speaking about Iraqi refugees in Syria. "No country can serve this number. Education, health -- we share with the other citizens. I am embarrassed, because this is not our right."
As her son meets with a specialist in a park in Damascus, she says that she learned about autism at first on the Internet. It was shortly after that when she decided to make the dangerous journey for her children. She worries that she is not a good mother -- that she has not done enough for her children. She is wracked with guilt for her two other children, worried that she does not pay enough attention to them.
The training Mustafa is receiving in Syria is helping, she says. She already sees changes. He's becoming more independent -- he can open a door, look both ways before crossing the street, ask for help. Those are things that other parents may take for granted - but they are noteworthy achievements for a child with autism.
She is basically a single mother, away from her home -- caring for three children, one of whom needs special care. She misses Iraq, but has no misconception of the dire situation that exists there. Asked if she thinks she will be able to return home soon, her optimism is tempered by what she knows. "It's a hope, but only a hope," she says. "A dream that will never come true. There is a very real difference between a dream and reality."
E-mail to a friend