By Steve Almasy
CNN
BEIJING, China (CNN) -- He's certainly not the star of the team or even a medal favorite, but Eric Shanteau has earned as much respect as any of the U.S. swimmers at the Olympic Games.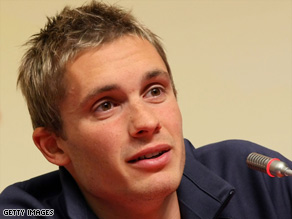 Eric Shanteau says the support of teammates has been important as he fights testicular cancer.
Shanteau, 24, of Lilburn, Georgia, was diagnosed with testicular cancer June 19, a week before he left for the U.S. swim trials. But he put off the decision to have surgery until after the Summer Games, his first and last Olympics.
"I can't believe what he is going through," said teammate Dara Torres, "but he still has that drive to be here and to do his best. It is an amazing thing to watch."
It will be even more amazing if Shanteau can medal in the 200-meter breaststroke, which begins with preliminaries Tuesday night (Tuesday morning in the United States). He has the ninth fastest time in the world this year, but he's confident he can surprise people. After all, swimming is the easy part.
Cancer is on his mind constantly, he said. He worries about himself and his father, Rick, who has lung cancer. It reminds him that while reaching the Olympics was his dream, there are other things he should treasure.
Shanteau, an Auburn University graduate, admits that he has some down times because of the disease, but constantly reminds himself: "I have cancer; cancer doesn't have me."

Watch how Shanteau says he won't give in to cancer »
And there is the support of his 40 teammates. He broke the news to them at a training camp. They had suspected something was wrong after Shanteau barely celebrated making the team. Aaron Peirsol, who is a club teammate of Shanteau's, wondered why his friend had been keeping to himself and had been showing up late for practice a lot.
Since the announcement, Shanteau has received e-mails, cards and letters from all over the world, but he points to his fellow swimmers as a huge support group.
"I'm very thankful they've taken me under all their wings," he said Wednesday at a news conference before the swimming competition began. "They are all behind me, willing to support me in the fight I am going through." iReport.com: Show your Olympic spirit
He also has the support of his girlfriend, Jeri Moss, who played the key role in discovering the cancer. She was the one who prodded him to go to the doctor one weekend. It was one of those kick in the butt moments that may have prevented a more serious issue.
Testicular cancer is an extremely treatable disease, especially when caught early. More than 95 percent of cases are cured, according to the National Cancer Institute's Web site.
In Shanteau's case, it was discovered extremely early and doctors determined it was slow-moving. He decided to live "week to week" in hopes that the cancer wouldn't quickly spread or grow.
Shanteau's decision to wait is common for people who have constant doctors' care.
"It is not unusual for someone to delay getting treatment for several weeks or several months," Dr. Otis Brawley of the American Cancer Society told CNN in July. "I'm not advocating that everybody wait a period of three or four weeks. If they do it under medical supervision, it can be very safe."
Asked about how he kept his focus after deciding to compete with cancer, Shanteau said it wasn't difficult.
"A lot of times when you get to an event like the Olympic Games, you can put too much pressure on yourself," he said. "I've kind of got an out with cancer."
It is unlikely that when Shanteau boards a plane to head back to the United States that he will have a medal to take with him. He disagrees. He said he believes he will finish in the top three "if I show up and swim the race I am capable of."
And then the man with cancer will turn supporter, cheering on the teammates who look to him for inspiration. iReport.com: Show your Olympic spirit
"To know I will be cured and I will beat this is inspiring," he said. "It's not going to get in the way of my life."
E-mail to a friend

All About Summer Olympics • Cancer