By Judy Fortin
CNN Medical Correspondent
PEACHTREE CITY, Georgia (CNN) -- The scene looked like a flashback to ancient China.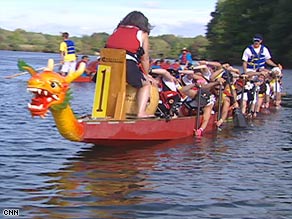 The Steel Magnolias is one of about two dozen U.S. dragon boat teams with breast cancer survivors.
Three boats with fierce dragon heads at the helm cut through the water. Drummers kept time as 20 paddlers in each craft vigorously moved their boats toward the finish line.
The sport dates back thousands of years, but some of these warriors are modern-day breast cancer survivors racing in a dragon boat festival on Lake Peachtree south of Atlanta, Georgia.
"It's like a floating support group," proclaimed Jill Binkley, a physical therapist and two-time breast cancer survivor.
Binkley, 51, director of Turning Point Women's Healthcare in Alpharetta, Georgia, said the strenuous paddling motion needed to move the 40-foot boat through the water helps breast cancer patients heal.
"It's increasing our range of motion, decreasing our pain that we have after breast cancer surgery and increasing our strength," Binkley said.
"It's reaching, it's digging deep, and it's pulling hard," said Beverly Booth, captain of the Dragon Boat Atlanta team, nicknamed Steel Magnolias.
Booth, 58, an assistant project manager for a construction company, was treated for stage 1 breast cancer in 1999. Her treatment included a lumpectomy followed by chemotherapy and radiation.
Booth started the Atlanta-based team four years ago after learning about the sport from her cousin.

She estimated that there are two dozen dragon boat teams in the United States that include breast cancer survivors.

Health Minute: Watch more on dragon boat racing »
Booth said regular practices and contests forced her to get out and exercise.
"I've never been a runner, so I can't say I've had that runner's high," Booth said, "but it is exhilarating to paddle in the water."
Booth said that she has no physical limitations that would hinder her movement but that several members of her team have trouble lifting their arms after treatment and can paddle only on one side of the boat.
Binkley dismissed as inaccurate old myths that women shouldn't exercise after breast cancer treatment.
"We know that, in fact, exercise is not only safe for women with breast cancer, but actually we now use it as a treatment for women with lymphedema," Binkley added.
Lymphedema is chronic and progressive swelling that may occur in the arms of breast cancer patients after lymph-node surgery and radiation.
Health Minute
Watch for Judy Fortin's Health Minute on Headline News
10 a.m. -6 p.m. ET weekdays

She cautioned women to check with a doctor before starting any exercise regimen during treatment.
Binkley asserted that injury, infection and weight gain may trigger swelling, but research has shown that exercise does not have a negative effect.
A 2005 Harvard University study in the Journal of the American Medical Association found that "physical activity after breast cancer diagnosis may reduce the risk of death from the disease."
A workout doesn't have to be as strenuous as dragon boating; adding any aerobic exercise is helpful, Binkley said. "It could be as little as walking four to five times a week for half an hour," she said.
Vera Berry, another member of the Steel Magnolias, wanted to stay in shape after having a lumpectomy two years ago.
Berry, 54, is an Air Force master sergeant from Fort Payne, Alabama. She drove six hours round trip in order to participate in the recent race.
Health Library
She said it's worth the time and sacrifice. "Once we hit the water, it's like we're flying. It's like nothing I've ever done before," Berry said.
She also pointed to the emotional benefits of exercising alongside other breast cancer survivors. "If you have any questions or worries, there is always someone who has been there."
Booth summed it up. "People have been there with me. They know what I've been through. I know what they've been through. If you want to talk about cancer, you can, and if you don't want to talk about cancer, you don't have to."
E-mail to a friend

All About Breast Cancer • Exercise and Fitness