By Val Willingham
CNN Medical Producer
POTOMAC FALLS, Virginia (CNN) -- Parents of children with autism often say it's like being on a roller coaster 24 hours a day. And the ticket for the ride is jaw-droppingly expensive.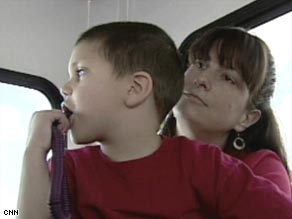 The monthly cost of Ethan Nunez's autism therapies is more than his family's income, says his mom, Carol.
A family's lifetime costs for caring for a child with autism can reach as high as $5 million, according to the Autism Society of America. Each month, parents report they pay thousands of dollars for treatment and therapy. And in most cases, insurance, even good insurance, won't cover all of the fees.
Some parents are making big financial sacrifices just so they can provide the care their children so desperately need. Many families faced with autism are so financially strapped they second mortgage their homes, live with other family members, even file bankruptcy, according to Autism Speaks, a national advocacy group.
For Carol and Rick Nunez of Potomac Falls, Virginia, the stack of bills piled up on the dining room table is a brutal reminder of their reality. The Nunezes, parents of two boys, were introduced to autism when their younger son, Ethan, was found to have the condition two years ago.
In order to provide the best care, Carol Nunez went to work full time and Rick Nunez stayed at home, providing 24-7 watch over Ethan. Although she has a good job in sales, the bills still amount to more than the family's monthly income. Costs for Ethan's applied behavior analysis, a relatively new therapy that has passionate advocates as well as critics, can run up to thousands of dollars a week, not including the cost for speech therapy, his medications and special schooling.
Carol admits it's tough. "It's been extremely expensive," she said. "Between ABA therapy, the accommodations we had to make to the house, the special material we have to give him, it just adds up."

Watch Dr. Gupta report on the push to cover autism treatment in Virginia »
But there is hope. A bill being considered by Virginia's General Assembly would require insurance companies to cover medical costs to treat autism. Just last month, Ethan, along with his parents and other Virginia families with autistic children traveled to Richmond, Virginia, to testify in favor of House Bill 83. The testimony was emotional, with parents, at times pleading from the podium for more financial relief.
Don't Miss
Casandra Oldham, who has two children with autism, told legislators her family's money is so tight that many times she and her husband have to decide which child gets care first.
"Do I help both children?" she asked. "Or do I help the one that needs it the most? Help the one that will go the furthest? It's gut-wrenching."
Over the past few years, parents across the country have pushed states including Pennsylvania and South Carolina to pass mandates similar to the one being considered in Virginia. Virginia's bill would put a cap of $36,000 per child per year. Other states have capped care at $50,000. But the insurance industry warns these mandates could lead to higher premiums.
"We oppose the idea of mandates in general because we think in the end what happens is that health care is less affordable and less accessible when mandates are imposed," said Susan Pisano, spokeswoman for America's Health Insurance plans.
But many parents of children with autism say it's time to stand up for their kids. They want the insurance industry to realize that autism is a medical issue that requires a large range of expensive treatments in order to assimilate their children into mainstream life and many believe paying higher insurance rates is worth it.
The key service mandated in the Virginia bill and in many of the bills already passed across the country is applied behavior analysis. ABA uses educational techniques to change certain antisocial behaviors in autistic kids. By working with these children on a one-on-one, daily basis, therapists can increase children's skills in language, play and social interaction. They can also help them get over behavior that interferes with learning. Much of the therapy is repetitive in nature, which is why sessions need to be ongoing, without interruption.
But it's controversial. Some health plans consider it experimental or say it is not medically necessary.
But many experts say that ABA does show promise, especially in children whose autism was diagnosed at an early age. At the Kennedy Krieger Institute in Baltimore, Maryland, a highly respected autism research and treatment center, experts have observed that high-functioning children with autism who have received very early ABA intervention can sometimes lose their diagnosis as they get older.
ABA is intense, requiring 40 hours of therapy a week. which can cost up to $50,000 a year. Some therapists support it, but others don't. Yet parents say they should be able to give their children any treatment they feel works and not be socked with astronomical medical bills.
For now it's a wait and see for the Nunezes and other Virginia families. Even though the bill has backing from the House and now the Senate, the General Assembly doesn't convene until January.
Till then, the bills on the Nunez dining room table will continue to pile up. It's a pile they know they won't be able to turn their back on.
E-mail to a friend

All About Autism • America's Health Insurance Plans