By Madison Park
(CNN) -- Breaking up over e-mail is a social no-no.
But sending an e-card telling someone to get tested for STDs may be a public health courtesy.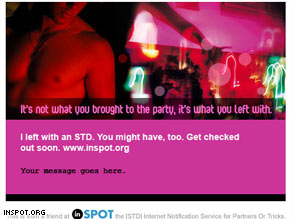 A California-based nonprofit allows users to send free e-cards notifying their sexual partners to get tested for STDs.
Since 2004, a free Web site, inSpot.org has allowed users to anonymously notify their partners to get tested for STDs such as HIV, gonorrhea, chlamydia and syphilis.
It may not be the most personal way of delivering the news, but researchers say it beats not saying anything at all.
"When you weigh the importance of getting people notified, that's ultimately what needs to be done," said Jeffrey D. Klausner, director of STD Prevention and Control Services in San Francisco, California's Department of Public Health. "By notifying them -- even if it's done anonymously, even distantly, even with an e-card -- the benefits of getting someone diagnosed and treated outweigh the concerns of insensitivity."
The electronic cards deliver the news in a variety of styles. Some are flirty: "You're too hot to be out of action. I got diagnosed with an STD since we played. You might want to get checked too."
Some are somber: "Who? What? When? Where? It doesn't matter. I got an STD; you might have it too. Please get checked out."
If the recipient lives within 10 of the cities that have teamed up with the site creators, Internet Sexuality Information Services, they're directed to local testing and treatment facilities.
"It's not like you get a card and it's, 'Oh no, it's a dead end,'" said Deb Levine, executive director of Internet Sexuality Information Services, a nonprofit organization. "The card leads you to regularly updated information about what you may have been exposed to."
Don't Miss
The site started in San Francisco and has spread to 10 cities such as New York and Chicago, Illinois. It also has taken root in Canada and Romania, and is being translated into French and Russian, Levine said.
The creators said they are aware of the possibility of misuse, but fewer than 10 recipients have reported that they received the cards in error.
"Our percentage of complaints is very low," Levine said. "It's extremely low compared to the number of cards that are sent."
Since inSPOT's launch, more than 50,000 e-cards have been sent, according to a report in the journal PLOS Medicine this week.
At Magnet, a gay men's health center in San Francisco, some of the men send the inSPOT e-cards using the computers there after learning they have an STD, said Steve Gibson, the center's director.
"Whether it's using inSPOT or an online chat room, it's a useful tool, because sometimes it's the only way they know to reach them," Gibson said.
"We don't have a lot of people expressing reluctance sending or receiving the e-mails," he said. "Maybe San Francisco guys are wired and connected, getting e-mails, Twitters and texts. Maybe we're permeated with enough technology. There's not a bias or reluctance against it."
For more than 70 years, the traditional method of notification was for the person to inform his or her partners or to give the partners' contact information to the public health department. But public health agencies don't always have the means, officials say.
"There aren't enough trained people to go around," said Dr. Matthew Hogben, Chief of Behavioral Interventions at the Center for Disease Control's Division of STD Prevention. "It's a stretch. There are over 300,000 gonorrhea cases, over a million of chlamydia cases. ... It was useful for 20,000, but you can't expand it to millions.
Klausner in San Francisco agreed: "Resources of the health department have been decimated. They don't have the capacity to do that kind of notification anymore. We needed to come up with something to serve the needs, to notify, that would be used and have an impact."
The e-cards are becoming a contemporary necessity, officials say.
In 1999, the San Francisco Public Health Department observed an outbreak of syphilis among gay men and learned that many were using Internet chat rooms to meet sexual partners.
"People are using online means to meet partners," Klausner said. "It was critical to develop online tools to promote sexual health and address this new venue."
The health department promoted syphilis testing in the chat room through screen names and e-mails. Five years later, Internet Sexuality Information Services and the health department assembled a focus group of gay men to discuss partner notification. They found that most men told their primary partners about an STD diagnosis, "but despite good intentions, they did not tell their casual partners," according to their report.
"That was really the key," Levine said. "We asked them, 'Why don't you tell them?' Truthfully, the reason was obvious. It's not the easiest thing to do."
A person with an STD is not legally required to inform any partners. And the prospect of a face-to-face confrontation or an angry, emotional conversation often makes the task daunting.
The focus group's message was: "We want to be accountable to the community. We want to be responsible. We want to do this, but we're not doing this. If there was an easy anonymous way to do it, we would take advantage," Levine said.
Their inspiration for the STD cards came from evites, an electronic invitation for parties and events. The inSPOT.org cards started with a focus on gay men, but have expanded to all sexually active people. Levine said they'd like to conduct further research to gauge the effectiveness of the e-cards.
"I see this as something that can help, but it's clear we don't know the extent it helps," Hogben said about the e-cards. "It's good to involve the patient. It gives people a vested interest in the health care system."

E-mail to a friend

All About HIV and AIDS • Centers for Disease Control and Prevention • Sexually Transmitted Diseases • San Francisco