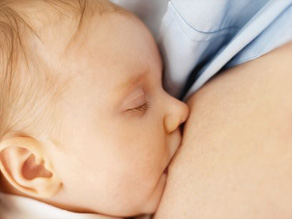 Breastfeeding is believed to protect against SIDS, ear and respiratory tract infections and even obesity.
Overview
A CDC data analysis from 2000-2004 shows nearly three-quarters of new mothers are breastfeeding their babies. But federal officials say they're quitting too soon, and using infant formula too often. The survey shows that less than a third of new moms are feeding their babies exclusively breast milk at three months after birth. At six months, just 11 percent are feeding only breast milk. Infant formula doesn't do the same job of protecting babies against diseases or childhood obesity.
Questions and answers
What do breastfed babies get that formula-fed babies are missing out on?
Elizabeth Cohen, CNN Medical Correspondent: Well, the benefits to babies who are exclusively breast fed are protection against things such as SIDS, respiratory tract infections, ear infections, even childhood obesity, according to a more recent study. And moms benefit too. Moms who breastfeed have a lower risk of developing type 2 diabetes, ovarian cancer and breast cancer.
Who isn't breastfeeding and why not?
Cohen: One thing the analysis found is that moms who live in rural areas, who are not as educated, who are poorer or who are unmarried are less likely to breastfeed. Also, African-American moms breastfeed in lower numbers than whites or Hispanics.
The message may not be getting out to some communities, some may believe formula is just as good as breast milk or maybe some moms are working and it makes it harder to breastfeed.
E-mail to a friend


Background
The American Academy of Pediatrics offers these breastfeeding recommendations:

- Exclusive breastfeeding for approximately the first six months, and support for breastfeeding for the first year and beyond as long it is as mutually desired by mother and child

- Mother and infant should sleep in proximity to each other to facilitate breastfeeding

- Self-examination of mother's breasts for lumps is recommended throughout lactation, not just after weaning

- Support efforts of parents and the courts to ensure continuation of breastfeeding in cases of separation, custody and visitation

- Pediatricians should counsel adoptive mothers on the benefits of induced lactation through hormonal therapy or mechanical stimulation

- Recognize and work with cultural diversity in breastfeeding practices

- A pediatrician or other knowledgeable health care professional should evaluate a breastfed newborn at 3 to 5 days of age and again at 2 to 3 weeks of age to be sure the infant is feeding and growing well