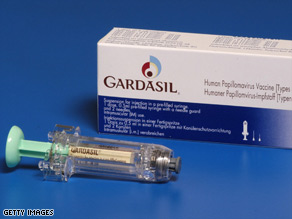 Gardasil has been approved for females to prevent HPV, the most common sexually transmitted infection.
Overview
Genital human papillomavirus, or HPV, which infects the skin and mucous membranes, is the most common sexually transmitted disease. About 20 million Americans have the virus, according to the Centers for Disease Control and Prevention. HPV is the major cause of cervical cancer, which kills about 250,000 women worldwide each year. In the United States, cervical cancer will be diagnosed in about 12,000 women this year, and 4,000 will die, the CDC says. Women get Pap smears to detect cervical cancer and now have the option of preventing it with a vaccine. Gardasil, developed by Merck, works to protect against four strains of HPV, including two connected to 70 percent of cervical cancers.
Questions and answers
Who can get the HPV vaccine?
Elizabeth Cohen, CNN medical news correspondent: The U.S. Food and Drug Administration approved Gardasil for females 9 to 26 years old in 2006. The FDA concluded the vaccine prevents cervical cancer in females 16 to 26, prevents genital warts and could benefit children 9 to 15. The goal would be to give it to girls before they have sex, something that might make some parents uncomfortable.
Does that mean women won't need to get Pap smears anymore?
Cohen: No. Although the vaccine covers strains that cause 70 percent of cervical cancer, it doesn't cover the other 30 percent. You still need to test for and detect abnormalities, so Pap smears are still important.
Should boys and young men be getting that vaccine?
Cohen: The research on that is ongoing, but if it pans out, yes. So far they're seeing very good antibody response, but results aren't in yet on how effective the vaccine is in boys and men. If it prevents boys and men from getting HPV, then they can't pass it on. Question: How much does this vaccine cost? The retail price of the vaccine is about $375 for the full three-dose series, according to the CDC.
E-mail to a friend


All About Gardasil • Sexual and Reproductive Health • Food and Drug Administration