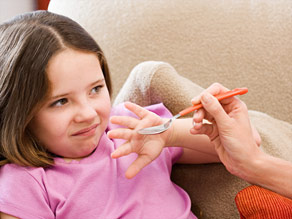 Physicians may recommend supplements for certain children at risk of deficiency.
Overview
Most U.S. adults and more than 30 percent of American children take some form of dietary supplement, most often multivitamins and multiminerals, according to a report in the October 2007 issue of Archives of Pediatrics. Experts emphasize diet as the best source of nutrients for children, but physicians may recommend supplements for certain children at risk of deficiency.
Questions and answers
Do dietary supplements work, and are they safe?
Dr. Sanjay Gupta, CNN chief medical correspondent: The report found that about one third of kids in the United States are taking dietary supplements. Most were taking a daily multivitamin and a small group taking individual supplements such as vitamin C, calcium or iron. So, do your kids need to take a multivitamin daily to be healthy? The short answer: no. The American Academy of Pediatrics does not recommend a daily multivitamin for children. They say most kids get the nutrients they need from their diet. But they do recommend 200 IU of vitamin D for children who don't drink milk and also 5 to 10 mg of iron for babies who are breast-fed.
What about vitamin D?
Gupta: The biggest concern for the American Academy of Pediatrics is vitamin D deficiency. Rickets is a disorder that becomes apparent during infancy or childhood and is the result of insufficient vitamin D in the body. This is most common in breast-fed children. Here is the good news: Although a daily multivitamin might not be offering your child a tremendous amount of benefit, it certainly is not hurting them.
Dr. Gupta, why did you say in your book that adults might be wasting money on daily supplement pills?
Gupta: Here's the problem: Despite the billions of dollars people spend, there's virtually no research showing that supplements can make you healthier or live longer. There is some research, but most finds there's no benefit at all.
Two examples from the Journal of the American Medical Association: Ginkgo doesn't help memory, and echinacea doesn't work to fight colds. And you've heard of antioxidants? One study found that taking antioxidants, such as vitamins A and E, in pill form, might actually be harmful. So it's possibly a waste of money because there's no powerful proof behind supplements. Yet, honestly, I take a few even though I don't know if they're doing anything for me. You could say it's a leap of faith. The National Institute on Aging doesn't specifically recommend any supplement.
If there's no evidence, what's driving people to take these supplements?
Gupta: People think they're shortcuts. We like shortcuts. And there's clever marketing to encourage us to give them a try, whether it's supplements, vitamins or antioxidants. Some supplements do show promise, even without much data yet to back it up, such as alpha lipoic acid to fight off heart disease and diabetes and fish oil with omega-3 fatty acid. Also, even if you eat a healthy diet, taking a multivitamin may just give you an extra boost of nutrients -- although, again, no research out there proves this yet.
The bottom line is studies have shown that a good diet, not pills, is the safest and best way to stay healthy. In my book, "Chasing Life," I recommend eating a "colorful diet" Research has shown eating a rainbow of colorful fruits and vegetables can protect you against heart disease, cancer and even the effects of aging.
E-mail to a friend


All About Vitamins and Supplements