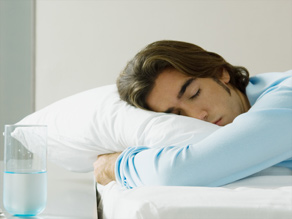 Teens need an average of one or two hours more sleep than their 9- and 10-year-old siblings.
Overview
Any parent with a teenager is familiar with how difficult it may be for them to get enough sleep. But some parents are finding help in a little pill: melatonin, a dietary supplement that helps regulate the body's sleep cycle. But should they?
Questions and answers
Is it a good or bad idea to give this supplement to kids whose sleep schedules may be thrown off by a time change or some other factor?
Dr. Sanjay Gupta, CNN chief medical correspondent: You're not likely to have a doctor ever advise giving the sleep hormone melatonin to your teenagers, but sleep experts tell CNN they've seen a tremendous upsurge in the use of melatonin in kids, by parents. It's not a prescription medication, it's a dietary supplement. Melatonin products are usually synthetic versions of the hormone made naturally by the pineal gland, in the brain, which helps regulate the body's sleep-wake cycle. Its production is determined by light and dark. When darkness falls, the gland produces more melatonin, which promotes sleep.
According to the National Institutes of Health, there is limited study of melatonin supplements in children under age 18 years old, and its safety is unclear. Having said that, we do know sleep is key: Teens need an average of one or two hours more sleep than their 9- and 10-year-old siblings, yet studies show most teens gets a few hours less. Teens are notorious for getting too little sleep.
What happens when teens don't get enough sleep?
Gupta: Sleepiness is associated with poor school performance and disciplinary problems, depression and attention deficit disorder, increased accidents among teen drivers, and even teen suicide.
But some people find that melatonin works. And we see how important it is for kids to get sleep. So does it make sense for teens having trouble sleeping to take melatonin to help them adjust, especially when it comes to adjusting to time changes?
Gupta: Based on available studies and clinical use, melatonin is generally regarded as safe in recommended doses. That means only for kids older than age 10, in doses of three mg or less, for short-term use. But because you probably can, doesn't mean you should use melatonin. Sleep experts say you're much better off getting your kid on a regular schedule than giving them melatonin. But, if you insist on melatonin for your kid, start it a day or two in advance to get the desired effect. But there are natural ways of enhancing teen sleep, in situations such as adjusting to daylight-saving time: Go to bed an hour earlier on Saturday. Get as much natural light as you can on Sunday, to help your body clock adjust. And make Monday a light day, as much as possible, because missing as little as one hour of sleep can affect performance.
E-mail to a friend


Background
CNN spoke with Susan Zafarlotfi, clinical director of the Institute for Sleep-Wake Disorders at Hackensack University Medical Center in New Jersey. Here is an edited transcript.

Zafarlotfi: Most important thing for parents: sticking to going to bed at the same time, waking up at the same time, making their room as dark as possible

I hate to see melatonin take the place of natural ways; sleep is a natural pattern, we shouldn't have to medicate the child.

The more you stick to a pattern, the more likely you are to regulate a pattern of sleep.

CNN: With daylight saving time, since we lose an hour of sleep, is it OK for teens to take melatonin just for a few days or a week while they adjust?

Zafarlotfi: Melatonin should have been done way in advance, it should not be done right before daylight saving time. Start a couple of days in advance if they absolutely must be taking it.

Do not use it as a first-line treatment. There are ways to treat children without medicating them.