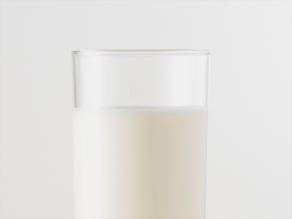 One cup of vitamin D-fortified milk supplies half of the recommended daily intake for adults.
Overview
Vitamins are important for good health. Now, doctors are touting the benefits of vitamin D. Is this the new fabulous vitamin of the 21st century or just another supplement?
Questions and answers
What's the big deal about vitamin D?
Dr. Sanjay Gupta, CNN chief medical correspondent: Vitamin D is called the "sunshine vitamin" because it's not only found in food, but can be made in your body after exposure to ultraviolet rays from the sun. It's at the center of a white-hot controversy. Is it a "wonder vitamin" or overhyped? Vitamin D made Time magazine's list of the "10 biggest medical breakthroughs of 2007" with a handful of studies suggesting it may improve everything from life expectancy to warding off gum disease, multiple sclerosis and cancer.
A pair of studies certainly suggest it's hot, not hype: A study from the Framingham Heart Study found vitamin D deficiency is associated with increased risk of heart attack and stroke. Another study from the Department of Energy found vitamin D generated through the sun's UV rays protects against the lethal effects of many forms of cancer and other diseases. It may even outweigh the risk of developing skin cancer.
Of course, the American Cancer Society is saying "hold on." As far as getting more sun to increase vitamin D, ACS says not to do it. It recommends dietary supplements as opposed to increasing sun exposure for those who want to increase their level of vitamin D.
Is vitamin D really a cancer-buster?
Maybe, maybe not. The National Cancer Institute and the Centers for Disease Control and Prevention concluded vitamin D levels in the blood were not related to overall cancer mortality.
However, the study did find higher levels of vitamin D were associated with a substantial decrease in the risk of dying from colorectal cancer and possibly with a reduction in the risk of dying from breast cancer. Whether vitamin D reduces cancer risks is being actively debated at the American Cancer Society, but there are no conclusions yet.
If you eat a balanced diet, are you likely to develop vitamin D deficiency?
Back in the 1930s, rickets was a major public health problem. Rickets is a skeletal disease that weakens the bones, especially in children. As a result, the United States started a milk fortification program. Most milk on the market is fortified with vitamin D. One cup of vitamin D-fortified milk supplies one-half of the recommended daily intake for adults between the ages of 19 and 50. For those over 50, the recommendation is higher. Two cups of milk will do the trick for half of your daily allowance.
As you get older, that daily intake goes up to three cups over the age of 70. Remember that's for half of your daily allowance. For those who don't drink milk, it can be found in other sources; mostly oily fish such as salmon, tuna and sardines. About a 3-ounce serving will give you a little more than half of the recommended daily intake for those under 50. The older you get, the bigger the serving you need. Not all products made of milk are fortified with vitamin D, so you need to check the label. For those under 50, it's not too tough to get enough vitamin D daily, but once you get older it's more difficult. Even if you are eating a balanced diet, you still may need a supplement. The best thing to do is ask your doctor.
E-mail to a friend