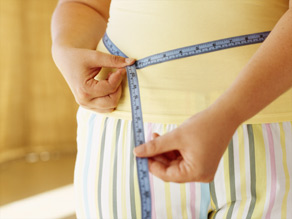 Experts say your very best bet for not "fattening" up your fat cells is exercise
Overview
What if your doctor told you that even after the weight comes off, your number of fat cells stays the same, and it will be an uphill battle to keep the pounds off? Research published in May 2008 in the journal Nature finds fat cells can shrink -- but they don't go away.
Questions and answers
Is it true that fat cells swell up or shrink down depending on what we eat?
Dr. Sanjay Gupta, chief medical correspondent: That's true. It's a really simple equation: When energy input is equal to energy output, your fat cells don't expand to accommodate excess. It's only when more calories are taken in than used that the extra fat is stored and the person begins to accumulate fat. Your very best bet for not "fattening" up your fat cells is exercise, particularly weight-bearing exercise. Exercise builds muscles -- and it's true, muscles use more calories than fat throughout the day, even while you are resting.
Does liposuction suck out fat cells and remove them permanently?

Gupta: According to recent evidence, that is false. This study found obese people who had weight loss surgery had as many fat cells two years after the surgery as before it, even though they were much thinner. Other studies have shown new fat cells are made in response to liposuction. And anyone who's had fat removed from their belly can tell you that if you gain weight after lipo, it may be in a different place, which can cause some odd proportions.
Is cellulite different from other fat? And does lipsosuction get rid of cellulite for good?
Gupta: It is true cellulite is different from other fat -- it has a layer of connective tissue thru it that pulls down parts of the fat while other parts bulge out. But this notion lipo can get rid of cellulite for good is false. Liposuction removes deep-down fat, but cellulite is closer to skin's surface. It can even make cellulite worse in older people.
E-mail to a friend


Background
CNN spoke with Dr. Judith S. Stern, Sc.D., a distinguished professor of nutrition at the University of California-Davis. And Dr. Peter Arner, a professor at Carolinska Institute in Sweden. Here's some of what they said:

CNN: Does this mean fat children are doomed to a lifetime of being fat because of a "set" number of fat cells?

Stern: Many fat children become fat adolescents and then become fat adults. However, the number of fat cells is not fixed in childhood and adolescence. We now know that if people gain a lot of weight as an adult, fat cell number increases. If very obese adults then lose weight, the fat cells get smaller [but] the number stays the same. Given all of that, I do not believe that fat children are doomed to become fat adults because of the number of fat cells.

Arner: The total number of fat cells in the body is stable over time, because the making of new fat cells is counterbalanced by an equally rapid breakdown of the already existing fat cells due to cell death.

The results may, at least in part, explain why it is so difficult to maintain the weight after slimming....The new fat cells generated during and after weight reduction need to fill up their lipids rapidly.