From Alison Harding
CNN
Editor's Note: Watch CNN Newsroom every day during the Olympics for more on these unusual sports in the United States.
(CNN) -- Eyes are on Beijing, China, for the Summer Games, with an estimated 4 billion people expected to tune in to watch the world's top athletes seek the ultimate recognition: an Olympic gold medal.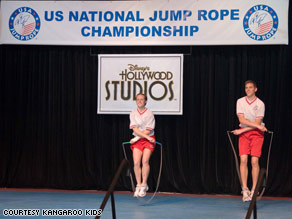 Madison Miller and Scott Simpson skip their way to gold at the USA Jump Rope National Championship in June.
In light of this international attention to the sporting world, CNN photojournalists from across the country take a look at other kinds of sports.
Sports in Focus: The Other Games considers the different ways that Americans incorporate sports into their daily lives.
Some crave competition, like the Kangaroo Kids precision jump-roping squad that recently got back from the world championships in South Africa.

Watch teens combine dance and gymnastics ... while jumping rope »
Others literally need to be fit, like 23-year-old Greg Wagner, who suffered from a brain aneurysm at a young age and has defied his doctor's expectations by sticking to a disciplined exercise regimen.
And many more, like the Darkon live-action players who meet in parks to act out their epic medieval fantasies, or the "Frolf" crowd, who play a hybrid Frisbee-golf game, are simply looking for a way to unwind.

Watch Frolfers drive, pitch and putt with Frisbees »
In this series, we also meet volunteer boaters who take kids with special needs out for a day on the Chesapeake Bay, a young man working to prove his talents in the female-dominated sport of synchronized swimming, kayakers training for a grueling race down the Mississippi River and foosball enthusiasts who meet weekly at a neighborhood billiards parlor for intense tournaments.

Watch a man break into the "water ballet" world of synchronized swimming »
You'll also see swim team coaches sharing their love of the sport with local kids, underwater rugby players seeking a challenge, and a diverse group of people who insist that skateboarding is more than a sport -- it's also a lifestyle.
For as vast and assorted the sporting world is, one thing is clear: There is no right or wrong way to play, as long as you're having fun.

Watch wargamers release their aggression »
E-mail to a friend