By Patrick Oppmann and John Zarrella
CNN

SALT LAKE CITY, Utah (CNN) -- Carolyn Dennis, mother of a 5-year-old, initially wasn't too keen on Utah's decision to move her to a four-day workweek.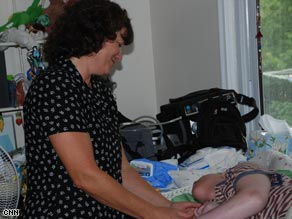 Mylitta Barrett says Utah's four-day workweek makes looking after her disabled son, Joseph, harder.
Dennis and 17,000 other state employees this month began working four 10-hour days per week rather than five eight-hour days. When told of the change, Dennis immediately thought about her son.
She normally picked him up from day care in the afternoon. Since she'd now be working later, pickup seemed like it'd be a problem.
"My first instinct was, 'Day care closes at 6 p.m.,' " said Dennis, who works at the state Department of Commerce.
But then something else hit her: She's just picked up an extra day off per week. If she could work out the day-care issue, the change wouldn't be so bad after all.
"I am going to have every Friday to spend with my son," she said.

Watch Utah's big experiment with the four-day workweek »
Utah is betting benefits like that -- and the millions of dollars it hopes to save on energy bills by closing some state buildings on Fridays -- will outweigh the adjustments that workers and service seekers will have to make.
In a one-year experiment, the state moved most of its employees -- those working in non-emergency services -- to the four-day week August 4. By closing 1,000 state buildings an extra day per week, it hopes to save about $3 million in utility costs during the trial.
It also hopes employees will save on fuel costs by driving to work one less day per week.
"American Morning"
Rising costs and budget cuts are forcing some employers to switch to a four-day workweek. CNN's John Zarrella finds out how it's working.
Weekdays, starting at 6 a.m. ET
The state, which will decide next year whether to make the move permanent, expects some backlash because the public will have one fewer day weekly to get in-person services such as driver's license renewals.
But officials say that because employees will be working longer Monday through Thursday, service hours on those days are extended accordingly. Also, the state says Internet offerings allow people to make some transactions with the state anytime they want.
As for Dennis' day-care dilemma, she was in luck. Because many of the parents leaving their children at her son's center were state employees, the center expanded its hours to accommodate them. iReport: Are you overworked?
She is charged more per day because her son is there longer. But because she no longer has to pay for Friday care, she's paying about the same per week.
Her new day off, Dennis said, will let her slow down and enjoy time with her son.
"As soon as he knew this was happening, we sat down with the calendar and planned out what activities he was going to do for the next three months," she said. "This Friday, we are going to the planetarium; next Friday is the zoo. Those are things I [didn't] get to do with him."
But some workers aren't able to make the switch as easily as others.
At the Department of Commerce last week, administrators wheeled around energy drinks and sodas for employees who were bleary-eyed from waking an hour earlier than usual.

See other areas trying four-day workweeks nationwide »
Jeff Herring, the executive director of Utah's Department of Human Resources, said the state is working with employees on the transition.
"The governor has made it very clear that as long as we can serve the public, we need to do what we can to exercise flexibility with the employees," Herring said.
Utah officials say previous studies on four-day workweeks show that for most participants, having a three-day weekend more than compensates for the longer work hours and recharges employees' batteries.
But Mylitta Barrett of Ogden doubts her new day off will provide much relief.
A statistician working for the state, Barrett is a single mom of three, including 14-year-old Joseph, who has cerebral palsy and needs constant care.
Barrett's carefully orchestrated routine of caring for her sons -- the others are 13 and 9 -- has been thrown off by her new schedule.
"Right now, I can't tell you how it's going to work," said Barrett, 48.
Because Barrett now leaves for her Salt Lake City job while her children are still asleep -- her new start time is 7 a.m., two hours earlier than before -- she hired someone to help get her sons to school.
Barrett said her supervisors have been flexible with her schedule while she tries to adjust. But while her colleagues are ecstatic about having Fridays off, she feels anything but excitement.
"It's great for the people who are getting three-day weekends, and I am real excited for them ... but it's happening at our expense, and that's not fair," she said.
Barrett said she doesn't foresee switching jobs. She loves what she does and would be unlikely to get elsewhere the medical benefits she needs to care for Joseph.
Having a Friday off is nice, she said, but it won't give her back what she's losing.
"You can't make up the soccer game that I missed on Monday because you were working and didn't get home until 7 o'clock at night or sitting down to do homework with the boys. You can't make that up."
E-mail to a friend

CNN's Jason Hanna contributed to this report.
All About National Economy • Business