By Ed Lavandera
CNN

DALLAS, Texas (CNN) -- Teachers and parents in Dallas, Texas, are angry about new grading policies that they say are dumbing down the district and pushing students through the system who haven't earned it.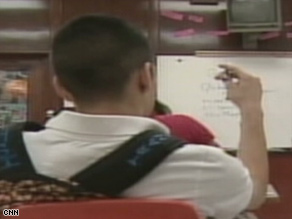 Students who fail a test in Dallas this year get to retake it, with the failed score tossed out.
One of the most contentious of the policies allows a student who fails a test to retake it, with the lower score being tossed out.
"Instead of setting high expectations and the high standards and holding them to that, we seem to be wanting to lower the bar and give them an excuse not to succeed," said Dale Kaiser, president of the National Education Association, the teachers union.
Dallas Independent School District officials refused multiple interview requests from CNN. But in interviews with CNN affiliates and in documents outlining the grading policy, district officials say the goal of the grading system is to emphasize learning, not failure.

Watch a free ride or a second chance? »
"This is not about giving anybody any sort of free ride. What this is about is giving students a second chance to be successful," John Dahlander, a spokesman for the school district, told CNN-affiliate WFAA.
The policy allowing failed test scores to be thrown out is just one of several changes to the grading policy that went into effect at the start of this school year.
Other grading policies include:
• For elementary and middle school students, only homework grades "that raise a student's average" will be recorded.
• Students must be given one opportunity to turn in homework assignments that weren't finished on time.
• Parents must be contacted before a teacher records a zero in the grade book.
"I think it's ridiculous," said parent Bobbie Wilhite. "It's tough out there once you get out of high school. We're already namby-pamby enough for our kids."
The new policies were put in place because Dallas has one of the highest dropout rates in the state of Texas.
A small committee of administrators and teachers wrote the new grading policy. The goal, they say, is to keep kids in school and prevent them from getting discouraged and dropping out.
"What we're really interested in is 'Are the children learning?' and if they're not, we need intervention immediately. This system does that," said Jerome Garza, a district school board trustee.
But teachers and parents say students who fail to perform or turn homework in on time need to learn there are consequences for such behavior. They worry this new system will create an atmosphere of mediocrity.
Kaiser, with the teachers union, says the district should not be afraid of setting the educational bar high.
"If you just lower expectations of them and tell them we'll let you slide and give you an excuse not to be successful, then by all means they will be unsuccessful. But if you say 'Here's the bar, you've got to come get it,' they'll find ways to come and get it," Kaiser said.
E-mail to a friend

All About Dallas • Education • Education Issues