PHOENIX, Arizona (CNN) -- Academy Award winner Susan Sarandon has a long-documented career in public advocacy, but as she describes it, those efforts have been "self-serving."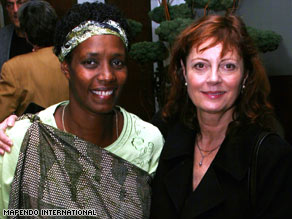 Susan Sarandon is on the advisory board of Rose Mapendo's organization, Mapendo International.
"It's [an] overwhelming time when you hear so many things going wrong and there's so little trust in the world," says Sarandon. "It's very self-serving to get involved because you meet people who give you hope for the future; you hear stories that make you feel there's going to be a happy ending somewhere."
For Sarandon, Rose Mapendo represents one such happy ending.
Mapendo, a Tutsi, survived 16 months of harrowing atrocity in a Congolese death camp with her children before their life-saving rescue and resettlement. Her journey ultimately led to her collaborative establishment of Mapendo International, a nonprofit organization dedicated to identifying, saving and resettling endangered refugees.
"She's the story of the power of forgiveness," says Sarandon.
As victims of the genocidal campaign against Tutsis in Rwanda and the Congo, Mapendo, her husband and seven of their children landed in a refugee death camp in 1998. Captives at the prison were starved, tortured and systematically killed because of their ethnicity.
There, she survived the torture and murder of her husband, fought off soldiers attempting to rape her daughter, and endured the near starvation of her family every day for months -- all while pregnant and preparing herself for childbirth.
"It was so sad, thinking, 'How can I do this?' Pregnancy without eating anything? Sleep on cement; no soap, no clothes, no door, no light? I was crying so much, asking God, 'Why?' "
Unsure that she would survive labor, Mapendo says she prepared for the probability of her death by asking God's forgiveness for her anger and promising to forgive those who perpetrated crimes against her family.
"That day is the day I survived," Mapendo recalls. "Something came as a joy in my heart; I don't fear. And at the time I gave birth, I said, 'God, I'm alive.' "
Her twin boys were born at night, in fearful silence on the prison's concrete floor. A fellow prisoner cut the umbilical cord with a stick and tied it off with a lock of Mapendo's hair.
In an act of forgiveness and an appeal to her enemies' humanity, she named her babies after the commanders charged to kill her family. The gesture became the first in what Mapendo describes as a miraculous chain of events that ultimately resulted in her family's rescue and resettlement in Phoenix.
Since her arrival in 2000 through the United States Refugee Resettlement Program, Mapendo -- which means "love" in Swahili -- has learned to speak, read and write in English, and has become a U.S. citizen.
"When I came here, I found out there was life," says Mapendo. "I never thought I could be like who I am today. Resettlement saved my life."
In 2005, she and Sasha Chanoff founded Mapendo International. Chanoff is the young contractor who, with his team, had discovered and rescued a group of 32 refugees in desperate need -- Mapendo and her children among them -- while on a government relief operation.
Mapendo now raises her children -- all of whom attend school -- as a single parent, while working as a home caregiver and assisting Mapendo International's efforts.
The organization works with the U.S. Department of State and the United Nations to identify and assist African refugees in danger. To date, Mapendo International has helped more than 2,000 refugees into the U.S. Resettlement Program and provided medical care to an additional 3,000 through the organization's health clinic in Kenya.

Watch Mapendo tell her story as Sarandon describes why she's her hero »
Sarandon, now on Mapendo International's advisory board, calls Mapendo her hero.
"What Rose has done is shown this great capacity to move on and to forgive and to embrace life," says Sarandon. "She's a living example that this is possible, and she's dedicated her life to saving these refugees that are falling through the cracks."
E-mail to a friend

All About Democratic Republic of the Congo • U.S. Department of State • United Nations