HOLLYWOOD, California (CNN) -- Singer Christina Aguilera joined fellow Grammy Award winners Alicia Keys and John Legend for "CNN Heroes: An All-Star Tribute," which honored the top 10 CNN Heroes of 2008.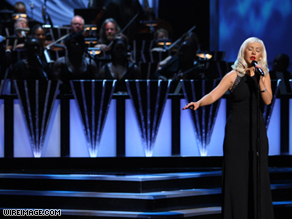 Christina Aguilera performs her hit single "Beautiful" at "CNN Heroes: An All-Star Tribute."
The show, taped before an audience of more than 2,500 at the Kodak Theatre in Hollywood, premiered on the global networks of CNN on Thanksgiving night.
Liz McCartney, dedicated to helping survivors of Hurricane Katrina rebuild their homes, was named 2008 CNN Hero of the Year.
McCartney, who will receive $100,000 to continue her work just outside New Orleans, was selected from among the top 10 CNN Heroes after six weeks of online voting at CNN.com. More than 1 million votes were cast.
"To the country and the world, I ask you to please join us," said McCartney, of St. Bernard Parish, Louisiana. "Together we can continue to rebuild families' homes and lives. ... If you join us, we'll be unstoppable."
Hosted by CNN's Anderson Cooper, "CNN Heroes: An All-Star Tribute" featured musical performances by Aguilera, Keys and Legend.
Keys sang "Superwoman," her tribute to women around the world, from her hit album "As I Am." Aguilera performed her hit single "Beautiful."
Legend, backed by the world-renowned Agape Choir, performed "If You're Out There," from his just-released album, "Evolver."
All three performances echoed the spirit of the CNN Heroes campaign, which salutes everyday people accomplishing extraordinary things in their communities and beyond.
"In this time of economic turmoil, it is such a relief to know that there are people like these heroes, people who care more for others than they do for themselves," Cooper said.
The top 10 CNN Heroes, chosen by a blue-ribbon panel from an initial pool of more than 3,700 viewer nominations, were each honored with a documentary tribute and introduced by a celebrity presenter. Each of the top 10 Heroes receives $25,000.
Actors Cameron Diaz, Salma Hayek, John Krasinski, Forest Whitaker, Meg Ryan, Terrence Howard, Lucy Liu, Jessica Biel, Kate Beckinsale and Selena Gomez were among the stars joining in CNN's tribute to the top 10.

See key moments from the show, including presentations and performances »
In addition, actor Hugh Jackman presented People magazine's 2008 Heroes Among Us award to six recipients honored by the magazine.
Award-winning producer-director Joel Gallen returned to executive produce this year's program. Among his credits, Gallen produced telethon events supporting victims of the September 11 terrorist attacks and Hurricane Katrina, winning an Emmy Award and a Peabody Award for "America: A Tribute to Heroes."
The Kodak Theatre is best known as the first permanent home of the Academy Awards.
In alphabetical order, the top 10 CNN Heroes of 2008 as chosen by the blue-ribbon panel are:
Don't Miss
Tad Agoglia, Houston, Texas: Agoglia's First Response Team provides immediate help to areas hit by natural disasters. In a little more than a year, he and his crew have helped thousands of victims at more than 15 sites across the United States, free of charge.
Yohannes Gebregeorgis, Addis Ababa, Ethiopia: Moved by the lack of children's books and literacy in his native Ethiopia, Gebregeorgis established Ethiopia Reads, bringing free public libraries and literacy programs to thousands of Ethiopian children.
Carolyn LeCroy, Norfolk, Virginia: After serving time in prison, LeCroy started the Messages Project to help children stay connected with their incarcerated parents. She and volunteer camera crews have taped roughly 3,000 messages from inmates to their children.
Anne Mahlum, Philadelphia, Pennsylvania: On her daily morning jogs, Mahlum used to run past homeless men. Today, she's helping to transform lives by running with them, and others as part of her Back On My Feet program.
Liz McCartney, St. Bernard Parish, Louisiana: McCartney moved to New Orleans to dedicate herself to helping Hurricane Katrina survivors move back into their homes. Her nonprofit, St. Bernard Project, has rebuilt the homes of more than 120 families for free.
Phymean Noun, Toronto, Ontario: Growing up in Cambodia, Noun struggled to complete high school. Today, she offers hundreds of Cambodian children who work in Phnom Penh's trash dump a way out through free schooling and job training.
David Puckett, Savannah, Georgia: Puckett started PIPO Missions to bring ongoing prosthetic and orthotic care to those in need. Since November 2000, he has helped more than 420 people in southeastern Mexico, free of charge.
Maria Ruiz, El Paso, Texas: Several times a week, Ruiz crosses the border into Juarez, Mexico, bringing food, clothing and toys to hundreds of impoverished children and their families.

Marie Da Silva, Los Angeles, California: Having lost 14 family members to AIDS, the nanny funds a school in her native Malawi, where half a million children have been orphaned by the disease.
Viola Vaughn, Kaolack, Senegal: The Detroit, Michigan, native moved to Senegal to retire. Instead, a group of failing schoolchildren asked her to help them pass their classes. Today, her 10,000 Girls program is helping hundreds of girls succeed in school and run their own businesses.
E-mail to a friend