(CNN) -- Nina Allam was nervous. She was about to meet someone she had been chatting with online since February.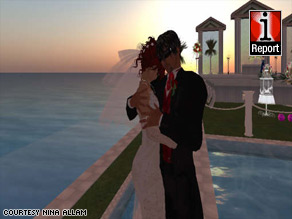 Nina Allam and Sean Barbary were married in the virtual world of Second Life before meeting for the first time.
"I was terrified on the train. Very, very nervous. I remember sending him a text saying 'Last chance to back out,' when I was at the station ready to get on the train."
Though meeting Sean Barbary in person for the first time, Allam was already married to him in the online virtual world of Second Life. Second Life iReporter Janey Bracken told their story, and others like it, on iReport.com.
To many of its inhabitants, Second Life is much more than just a 3-D online game. It has its own economy and millions of residents who own and create property, make friends and even get married, according to Secondlife.com.
Allam and Barbary's avatars, Brie Janick and Seany1235 Blinker, married online in June.
The wedding itself was preceded by a surprise bridal shower for Janick. In the real world, both live in England -- Allam in London and Barbary five hours away in Cornwall.

Just recently, the two finally met in person and hit it off. Before their first meeting, they spoke together on the phone and over webcam. They even created a virtual tropical island home for themselves in Second Life.

Both say they have real feelings for each other.

See photos of Second Life couples »

Sharon and Nigel, who asked to be identified only by their first names, also met on Second Life where they share a home. Feebe Fearne (Sharon's Second Life avatar name) says she instantly clicked with Nijel Charles (Nigel's avatar name) when they met on Second Life back in February.

It wasn't long before they were spending more time together on Second Life.
Don't Miss
"I missed him when he was working or sleeping," Sharon said.

In real life, they lived just 80 miles from each other when they first met in person in May. Three weeks later, they moved in together in Shropshire, England.
Three weeks ago, they got engaged, and plan to marry next May. Oddly enough, they still want to have a Second Life wedding.

Second Life residents Captive007 Latte and Roach Benelli married in a lavish wedding in August. Bracken not only shared the story with iReport.com, she was the last-minute maid of honor.

It was a classic fairy-tale wedding, according to Bracken, who said she had a great time. So, what is the relationship between the virtual bride and groom? When asked, both of them described it as "a giggle."

Latte and Benelli are good friends in real life, each with a real-life significant other who is aware of their Second Life marriage.

"We get on great and enjoy each other's company," Benelli said.

For those whose Second Life relationship carries into the real world, Latte says it's "wonderful. As long as people don't get hurt it's a great thing." iReport.com: See pictures from their lavish virtual wedding

On iReport.com Laura Bungarz of Winnipeg, Manitoba, Canada, told the story of how she met her husband Matt on Second Life.

"We met at a party where he was the DJ. It was one of those 'friend of a friend' meetings. Initially nothing really happened, but by February of 2006, we started dating in Second Life and it wasn't very long before we moved to more of a real-life relationship."

That summer, in fact, Bungarz met her husband in real life for the first time in Vancouver, Washington. "It was then I knew that we were meant to be together." iReport.com: A spontaneous Second Life wedding

In her iReport, Bungarz says Second Life relationships move "considerably quicker" than those in real life, and her case was no exception. They married on Second Life in May, but took things slower in the real world, marrying in June of 2008 "in a much smaller ceremony."
When Bungarz sent her iReport in November, she and her husband hoped to be living together in Winnipeg.

Second Life weddings happen often enough "in-world," as it's called in Second Life, that iReporter Hibiscus Hastings even visited a Second Life bridal show. There were about 40 vendors and over 800 attendees, according to its organizer. It even included a fashion show and panel discussion of "wedding do's and don't's." iReport.com: Check out a Second Life bridal expo

Avatars SeasonedRed Halfpint of Tennessee and Darrius Beresford of North Carolina married in Second Life and help other residents with their weddings. They met in Second Life just over a year ago but didn't begin a relationship until May -- a fact that was mentioned in their Second Life wedding vows.
Even though Halfpint is a wedding planner, Beresford did all the planning for their Second Life wedding in November. Their wedding theme was a "royal wedding" with a "coronation of king and queen." By this time, they were engaged in real life.

Now the two of them work together on the Second Life wedding business, offering "different wedding packages affordable for all residents." As for a real wedding, that is planned for next summer. iReport.com: Read more about this couple in the Second Life wedding business

Meanwhile, married Second Life couple Allam and Barbary plan to spend New Year's together in real life, only the second time they will have met. From there, Barbary hopes to move to London, where their Second Life romance can continue.

"I've never felt like this before, I love her so much," Barbary said. "I never knew I could feel like this." iReport.com: A real life family from Second Life
E-mail to a friend