By Diane Mapes





(LifeWire) -- Like other couples, D-D Flannery and her husband have an assortment of buzzing hand-held devices in the bedroom to help keep things lively. The problem is, these devices don't improve their love life -- just their work flow.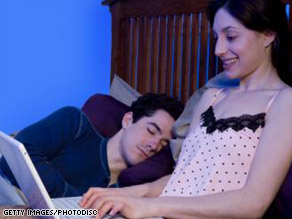 A study says that 37 percent of laptop owners "frequently" use their computers in the bedroom.
"If you come to my house in the evening, you'll find me in bed with the laptop on my lap, the cordless land line next to me, and then my Treo," says Flannery, a 31-year-old public relations consultant from Rochester, New York.
She says the same goes for her husband, Aaron Lazenby, 35, a mortgage consultant.
These days, laptops, cell phones and smart phones allow us to instantly connect with others while standing in line, working out and even cuddling on the couch. Unfortunately, the ubiquitous nature of our digital technology also makes for some very strange bedfellows.
Really personal technology
According to a recent Solutions Research Group study of nearly 5,000 Americans, more than 63 percent of BlackBerry users take the device into the bathroom. And 37 percent of laptop owners "frequently" use their computers in the bedroom.
"I've been known to answer the phone from the shower," says Flannery, whose PR business includes crisis management work. "And I call the bathroom my husband's 'conference room.'"
Luckily, the pair is well-matched, digitally speaking, so taking care of business -- even in the bathroom -- isn't an issue: "We both have a similar approach to business and customer service, so it works for us," she says.
But others have a more lopsided approach to laptop love, as Steven Porricelli, a 36-year-old high school teacher from Cranston, Rhode Island, can attest.
"Technology is a necessary evil," Porricelli says of his wife, Jane, who runs the family-oriented Web site pinksandblues.com. "She's always texting in one hand and Twittering (an online social network and messaging service) on the other. I've woken up before and she'll be zonked out in bed with the laptop on her lap. It's insane. Sometimes I just want to throw her stuff out the window."
Keeping the Tech In Check
Instead, Porricelli tries to help his wife keep things in balance.
"I try to remind her that we need time, too," he says, "that the laptop occasionally needs to be shut down and set aside. My wife is an amazing person, but she's a workaholic." (He says he'd never throw her laptop out the window, but he has hidden it under the couch cushions.)
Erin Sekerak, a 29-year-old marketing maven from Pittsburgh, says her husband, Jason, also 29, an auditor, has put the kibosh on her connectivity as well.
"One time we were driving to my parents' house and I was doing stuff on my BlackBerry -- both work stuff and chatting with friends -- and he was like, 'I want to talk; put that thing away,'" she says. "He actually took it away from me and put it in his pocket."
Joe Guppy, a Seattle couples counselor, says today's couples often find it challenging to keep the communication devices from getting in the way of, well, communicating.
"Communication problems seem to be the No. 1 thing people ask about when they call," he says. "They come to the session and pay me $100 just so they can sit together and talk. And to me, the No. 1 red flag is if each person is engaged in their own cyberworld or video world. I had one couple that would even get into arguments via text message."
Guppy recommends sharing digital distractions so one partner doesn't feel left out (Sekerak and her husband choose Netflix movies together) and establishing limits.
"Over time, we've learned to set boundaries," says Flannery, the PR consultant. "We can't answer phone calls during dinner. We can't bring the phone to church with us."
Digital Sabbaticals
But setting boundaries isn't always easy. With technology so affordable, commonplace and seemingly indispensable, its addictive potential is hard to deny.
"Certainly not everyone who uses technology has a problem. But if you're missing things in your life, you're online for hours and people are complaining, you're driving and texting at the same time, then you may need to set some limits, some rules," says John O'Neill, director of addictions services at the Menninger Clinic in Houston. "We're not asking people to get hospitalized or get treatment, but to cut back in order to be present in their relationships. I think most people probably can do that."
Ariel Meadows Stallings, 32, an author, blogger and marketing manager from Seattle, recently started a project she calls 52 Nights Unplugged after realizing her dependence on technology had "gotten a little creepy." Every Tuesday night, she shuts off the TV, computer and cell phone and takes a short digital sabbatical.
"When I first told my husband what I was going to do, he was dubious," says Stallings. "He's the one who brings me the laptop in bed. But I'm in my 10th week now and it's going great. I'm doing a lot more reading and crafting and even taking a dance class."
Stallings calls her project a "raging success," although there are still occasional twinges of online envy.
"My husband's not doing the unplugged thing; he doesn't feel he needs to," she says. "So there are nights that I'm unplugged and he's checking his e-mail and surfing on his laptop, and I'm like, 'Grrrrr.'"
E-mail to a friend

LifeWire provides original and syndicated lifestyle content to Web publishers. Diane Mapes is the author of "How to Date in a Post-Dating World" and writes a column, Single Shot, for the Seattle Post-Intelligencer.
All About BlackBerry Mobile Devices • Personal Computers