(OPRAH.com) -- A chance remark. An offhand cruelty. A well-intended suggestion that went wrong. If you think what parents say about their children's appearances doesn't leave a mark, think again. Four attractive, engaging, intelligent, vibrant women remember the worst (and the best) of it.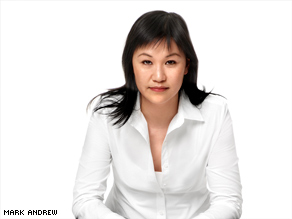 Cindy Cheung's mother insisted a boob job would help the actress' career.
Margaret Cho, 39, soft-spoken and serious, is a comedian.
I was on this radio show, and the DJ asked me, "What if you woke up tomorrow and you were beautiful? What if you woke up and you were blonde, 5' 11", and you weighed 100 pounds?"
Well, I probably wouldn't get up -- because I'd be too weak to stand. In our culture, we don't see people out there with normal-looking bodies. We should all feel beautiful. If you feel beautiful, you will be more political, more active in trying to stand up for yourself, you'll be in more control of your life, have more sense of power over what you're doing.
I started to need to feel more positive about myself after I came to Hollywood. I got criticized a lot for my looks -- people thought that I was too fat and that I wasn't pretty. Also, because I'm different -- because I'm not white, I'm Asian, I'm not super skinny. I was anorexic for a time when I was about 24, when I was doing television. I was told by network executives that I had to lose weight. I was forced to. I went on a very rigid diet and became very sick because I wasn't eating at all.
My mother always had body issues, and I really feel that she passed that on to me. She'd had two kids and couldn't retain her old body. She handed down this disordered eating to me. She was always on a diet and always exercising, but not getting any joy from it. It was a punishing activity. Before I reached puberty, she was always so in love with my body, and saying, "You're so thin, you're so thin, just stay that way."
My father ... one time when I was maybe 9 years old and dancing in ballet -- I loved it -- he said after a recital, "You're the fattest ballerina." It so destroyed me that I never wanted to dance again. He wanted to prepare me for a world that was not going to accept me because I think he experienced so much racism. He'd say, "You're not pretty. And you're not going to be pretty." I absolutely believed him.
Now I feel great and settled in myself and the way I look. It took a long time to get there. You need to look in the mirror and compliment yourself. I have these little rituals of being very fastidious about my skin care and drinking a lot of water, and I see the results. When we care for ourselves, these are acts of love.
Do romantic things for yourself. Over the years, I've become a dancer, which is a big part of my life. I do belly dancing and burlesque dancing. Now I'm comfortable enough to do shows naked. This is a huge change from feeling super insecure and freaked out to feeling totally comfortable with myself. It's about celebrating the body as opposed to trying to banish it. Oprah.com: Say goodbye to feeling bad about your looks!
Tiffany Jackson, 23, is a professional basketball player. With a strong Texan twang and down-to-earth manner, she conveys a sense of self-assurance.
I was always taller than everybody else. In the eighth grade, all the guys were shorter than me. My mom told me always walk with my head up, I'm beautiful. She gave me such positive messages when it came to my body. She'd tell me, "Walk in the room like you own the room." And then I'd complain, "People are staring at me." She'd say, "No, you're beautiful. That's why they're looking at you." I think after a while that just kind of stuck with me.
When I was 14, I was already six feet, or at least 5' 11". My dad was giving me confidence as far as basketball goes. Your dad always has that look: "This is my daughter; she's so precious. She's so great." I just always felt so loved by him.
I'm very proud of myself. I love my body. I work really hard on my body, so I love that I get a chance to show my body off.
Deborah Voigt, 47, is an opera singer who has wrestled with her weight. In 2003, the Royal Opera House fired her because she couldn't fit into a little black dress. Voigt has since had gastric bypass surgery and lost more than 130 pounds.
I always had a distorted image of my body, even when I was a kid. A lot of attention was paid to weight in my family. My mom had always fought with her weight, been on one diet or another. She had self-esteem issues around her weight. We were constantly going on diets. She'd say, "You need to take some weight off." I felt very self-conscious. I was aware that I was bigger than my small friends at about age 15, 16, 17.
Now, when I look at pictures of myself at that age, I was a normal, voluptuous girl with curves in the right places, but I thought I was too big. The weight ballooned. My dad may have felt my weight was a reflection on him in some way. He was very much a "Food Marshal," watching everything I ate. Hearing the cookie jar opening at night, he'd ask, "Who's opening it?" It was me.
I wish things had been different. I would not pay that kind of attention to my little nieces if I saw they'd put a lot of weight on. I'd tell them they were beautiful the way they are. And then I'd invite them out for a bike ride. To make them feel there is something wrong and that something drastic needs to be done is not the way to do it.
By the time I went to have the surgery, I couldn't even shop at Lane Bryant anymore. I was above a size 28, 30. Gastric bypass seemed like the right thing to do. My parents are very happy about my weight loss& though my mom did mention I had put on a few pounds. She'll say that, and then she'll say, "You look great, though." It's a contradictory message. My parents did do the best they could. They saw me very unhappy for most of my life.
At the Opera News gala last week, I had people telling me I'm beautiful. And it's hard for me to hear. It makes me uncomfortable. Something in me doesn't want to believe it or can't believe it. I lived a totally different life for such a long time.
Psychologically, I still think of myself as a really fat girl. I think I like the way I look, but I can't ever be satisfied. What will it take for me to accept myself the way I am and love it? Oprah.com: Be a part of the beauty solution
Cindy Cheung, 38, is an actress who has a radiant smile and projects a quiet strength and authority.
Once, my mother said, "You might not be the prettiest girl in the world, but I think you're beautiful just the way you are."
I'm pretty flat-chested; my mother is too. We'd be in the fitting room, and she'd say jokingly, "Sorry! Sorry I didn't give you more!" She's putting us both down in a little offhand joke. The message was, "You're lacking in this department --that's a sad little thing we have to accept. Unless you want to get a boob job." She always says, "I'm built like a football, and you're long and lean and beautiful." But she still says "Sorry!" about the boob size. The specifics are very revealing about how she feels about me and herself.
My dad is kind of a square, really conscious about health. He asks, "Are you eating right and exercising?" That's his way of showing his care and his love. I inherited a lot of healthy attitudes from him.
I go to California every year for pilot season. In the industry, at auditions, they can be cruel. You can tell when you walk in and you're not "hot" enough; they're done with you very quickly. My mom will ask, "You sure you don't want a boob job? It can really help your career." I have to actively tell myself I'm not lacking.
The casting call will say the role is for an "average woman." And the actresses look like mannequins. They're perfect, those proportions that conform to Hollywood's idea of a beautiful woman. They might look fabulous in a magazine. But when you get close, you see they're gaunt, they're hungry, they're not happy. You can see it in their eyes.
When I see a TV show or a magazine with a woman who does not have those very specific proportions, I'm happy. I'm happy for her and for me and for women. I'd rather have a few great roles than a ton of roles based on superficial elements.
I have a pretty healthy sense of my body image and of myself. But it does take work and awareness in the roomful of mannequins. A technique I learned in acting school is to notice my breathing -- it makes me very connected to my body and to the present moment.
As told to Lisa Dierbeck from "O, The Oprah Magazine," June 2008
E-mail to a friend

Subscribe to O, The Oprah Magazine for up to 75% off the newsstand price. That's like getting 18 issues FREE. Subscribe now!
TM & © 2009 Harpo Productions, Inc. All Rights Reserved.