By Charlene Dy

(MyRecipes.com) -- Think you know how to shrink your food bill? Think again.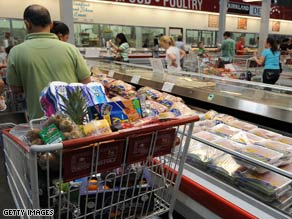 Studies have shown that shopping leisurely in a grocery store leads to more spending.
Many so-called "ways to save" are nothing more than grocery marketing strategies.
1. Stocking up on a "great deal"
While a purchase may be a "great deal" in terms of dollar amount, it's only a deal if the food actually gets eaten. This is especially true for perishables like milk, eggs, and produce. Don't overbuy, even when the price is right.
2. Reaching for the "value" size
The concept of getting a better price when you buy the larger package is generally accepted, but many companies have now wised up to our assumptions.
To be sure you're getting the best value for your money, check the unit price: it's the number on the shelf tag that says how much the item costs per ounce or pound. That way, it's a no-brainer to calculate whether the larger or smaller can of tomato sauce is the better buy.
There are some exceptions to the unit pricing guideline: poultry and meats. For instance, don't assume that buying a whole chicken is cheaper than buying parts separately. In this case you'll want to calculate the cost per serving rather than per unit. A whole chicken may be cheaper per pound, but that includes a lot of inedible material, like bone and skin.
3. Scooping up 10 for $10
"Wow," we think, "4 soda packs for $10? That's a steal!" It is, but does any one household really need 48 cans of soda? Not unless you're helping host a block party that week. But, unless is the ad specifies a minimum purchase, you can usually buy as little as you need while still taking advantage of the discount.
4. Skipping the store brand
Store brands often get a bad rap, but really, not all store brands stink. During a blind taste test, supermarket expert Phil Lempert showed that for things like cereal, potato chips, and ginger ale, a large percentage of shoppers either couldn't tell the difference between generic and name brand, or even preferred the generic type. So do your own taste-tests at home, and figure out which name brands you can swap out.
5. Shopping leisurely
Supermarket folks have long known that the more time you spend in a store, the more you'll spend. In fact, studies show that for each additional minute you spend in a grocery store past half an hour, you will likely spend between 50 cents and $1.
6. Taking advantage of one-stop shopping
As long as you're already at the store, might as well pick up laundry detergent and lightbulbs, right? Wrong. Supermarkets often price non-food household items 20 - 40 percent higher than discount stores, knowing that shoppers will buy them anyway out of convenience. So remember, grocery stores are for groceries only. Shop for toilet paper elsewhere.
7. Clipping coupons religiously
We're not saying coupons are bad. Coupons can save you money, but the operative word is can. They don't save money if you use them to pick up expensive items that you wouldn't buy normally. They don't save money if you're only getting a few cents off a $5 purchase. Studies show that if a shopper has a coupon in hand, they usually won't check to see if what they're buying is actually a bargain.
So use them, but use them wisely. Head to Web sites like CouponMom.com and MyGroceryDeals.com to learn how to organize and strategize your coupon use. Then find out if the store doubles manufacturer's coupons, accepts competitor's store coupons, or allows you to combine coupons for the same item.
8. Zoning in on "sale" signs
Just because it looks like a sale doesn't always mean it's on sale. For example, stores will create visual cues by using bargain bins, hanging promotional signs, or filling up endcaps (the displays at the end corners of each aisle) -- all using items that are actually full-price.
Or, they'll compare a sale price to a list price, except the list price has been hiked up to offer a deeper discount. So track prices of items you buy on a regular basis so you can evaluate a good deal when you see one, and read the small print, watching out for signage that uses faux-sale language like "everyday low price."
9. Making a list
Proponents of list-making says that it helps them remember what they need and avoid impulse purchases, but Robyn Moreno, the consumer editor at Women's Day, says that shoppers with lists spend over 41 percent more than those who shop list-free.
The idea is not to chuck the list completely, but to chuck the idea of the shopping list as wish list. Plan lists around menus, keeping the store circular handy so that you can take advantage of specials.
10. Watch the scanner for errors
Keep an eagle eye on the scanner and make sure you're getting charged the right prices. When items go on sale at the supermarket, the price change isn't always immediately updated on the store's computer listings, leading to overcharges at the cashier's.
IT business magazine InformationWeek estimated that American consumers lose $2.5 billion to supermarket scanner overcharges per year, so it pays to keep your eyes peeled.
E-mail to a friend

Enter to win a monthly Room Makeover Giveaway from MyHomeIdeas.com
Copyright © 2009 My Home Ideas. All rights reserved.
All About Shopping • Food and Cooking