(OPRAH.com) -- If you're a parent in the midst of a divorce -- or even if you have been divorced for years --we have an urgent message for you: If you talk to your children about divorce the wrong way, they could internalize their pain and blame themselves for the divorce.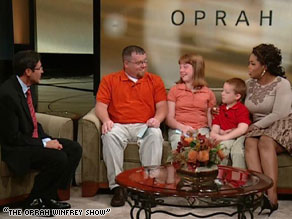 M. Gary Neuman, divorced dad, Gary, his daughter, Daisy, and son, Kris, talk with Oprah Winfrey.
M. Gary Neuman -- founder and director of the Sandcastles Program and author of "Helping Your Kids Cope with Divorce the Sandcastles Way" --says he's seen a lot of bad divorces.
The cardinal rule that all divorcing parents need to follow, Gary says, is to never criticize each other in front of their children.
"When they bad-mouth each other, it causes [the children] to question if they can love both," he says. "Kids should be able to love both parents. And if you say something bad about the other person, they feel disloyal to you if they actually love the other person. And they should never have to make that kind of choice."
Many families unravel after an affair has taken place in the marriage. Gary spent time with 11-year-old Daisy and her 7-year-old brother, Kris, who have a lot of feelings about their family's breakup.
Daisy says she's very angry with her mom. "I don't really want to have anything to do with my mom," she says. "And then my dad said if I don't talk about stuff like this that I [might] explode one day and everything."
Kris says he's feeling "really sad and very mad" about the divorce. "I don't want her to have a boyfriend because she was already married," he says.
Kris says he doesn't miss his mom, but as Kris sits with Gary, he gets emotional remembering the day his mother left. "My mother went away, and I don't want her to go away," he says.
What can Kris and Daisy's dad, Jim, do to help them through this rough time?
"First of all, understand that when you see all this sadness, we shouldn't be depressed about it," Gary says. "We should be upset if they don't express this. That's what it's all about here. If he doesn't get this out, if they don't do this, imagine how numb and what has to happen to them internally." Oprah.com: An exercise to help your kids express their emotions
Gary says there's no specific script to follow when talking to your kids about divorce.
"What we have to remember is that we heal through loving connection. That's the magic of being human," he says. "So the most important thing is to take the pressure off of yourself as a parent to say just the right words. It's the feeling. It's looking at these kids and saying, 'Gosh, I know it hurts. It makes sense that it's sad. And I wish I could do something different. But we're a family and we're going to get through this and you can tell Dad.'"
Jim says he's told Daisy and Kris that they can talk to him about anything, but he had never seen Kris react like he did with Gary. "You bring up a great point that many parents say, 'Well, I said to my kid, "If you ever have a problem, just come find me; come talk to me."' That's too intense," Gary says. "When do kids talk the most? They talk the most when we're having a catch, you know, cooking dinner together. Taking a drive together. Get back to just spending some quiet time. Get the earphones out and get the cell phone away. And just spend that time with your kid, and they'll talk."
Gary says children often blame themselves after a divorce and secretly believe they can somehow fix things. "Kids want to feel responsible for the divorce because it gives this some sense of control that 'I can make them come back,'" Gary says.
Daisy tells Gary that she tried to look pretty to make her mom want to come back. And Kris says he gave his mom "puppy eyes" and bought her a ring with his allowance, but she didn't want it.
This is the time when Gary says a parent needs to break the cardinal rule. "Children in these circumstances, we cannot have them feeling that they are somewhat responsible for the rejection from the parent who has abandoned them. So that's the time when we have to say to our children, 'It is wrong as a parent not to be there for your child.'"
Gary explains to Daisy and Kris, "Sometimes people have problems in their mind and it limits them and it stops parents from giving the love that children deserve. Your dad is here because you guys are terrific and you deserve to have two parents. And if you have this one, that's going to be good enough. You did not make her go away, and you cannot make her come back."
To help them express their feelings, Gary has Daisy and Kris write letters to their mother. "I miss baking cookies as a family and you helping us do our homework. I still love you, Mom, but what you did in the past makes me not love you so much like I used to," Daisy writes.
Kris writes, "When I think of you and Daddy not living together, I feel so sad. I do not understand why you got divorced. Sometimes I dream about Dad being sad. About not having you around. I wish that you didn't get a divorce."
Whether or not their mother gets these letters, Gary says they will help lift the burden that Daisy and Kris feel. "Regardless of who it goes to, the expression itself is healing," Gary says. "Tomorrow and the next day, they're going to walk lighter, and that sparkle in their eye is going to be back more and more."
E-mail to a friend

Subscribe to O, The Oprah Magazine for up to 75% off the newsstand price. That's like getting 18 issues FREE. Subscribe now!
TM & © 2009 Harpo Productions, Inc. All Rights Reserved.