By Sarah Jio
(LifeWire) -- When it comes to the natural highs, Gracienne Myers says sex just doesn't cut it. Shoes, on the other hand, get her heart racing.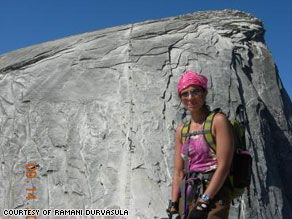 Ramani Durvasula preparing to climb Half Dome in Yosemite National Park in September 2007.
The 34-year-old Brazilian native who now calls State College, Pennsylvania, home says there's just something about heels, sandals, platforms and wedges that give her a rush.
"They're thrilling," says the entrepreneur, who recently started designing her own line of shoes and selling them online and through a handful of retail locations.
She still remembers the rush she got when she found a pair of strappy gold heel sandals at a boutique in Brazil. "I'll never forget it," she recalls, "that feeling of being powerful and sexy in those shoes."
For natural highs -- from stilettos to skydiving -- experts say to look beyond the bedroom. Some activities can actually mimic your brain's response to sex, says Ronald Frederick, a licensed psychologist and the author of the forthcoming book "Living Like You Mean It: Use the Wisdom and Power of Your Emotions to Get the Life You Really Want."
"Some of the same chemicals are involved," he says. "A 'natural high,' that pleasant feeling one experiences during and after a certain activity like running or strenuous exercise, has to do with the release of endorphins, as well as other mood-regulating hormones such as adrenaline, serotonin, cortisol and melatonin. Orgasm also produces a flood of endorphins, which is what makes us feel calm and relaxed after sex."
Break a sweat
For some people, the natural high is just that: high up.
"Hiking and climbing mountains is better than sex," says Ramani Durvasula, a professor at California State University Los Angeles who discovered the sport last year after reaching a big weight loss goal.
"When you pull yourself up onto a summit -- and climax, so to speak, particularly as a woman -- the sheer physicality, beauty and endurance are like no other feeling on earth," she explains.
Durvasula, 42, has climbed summits throughout California. "My favorite 'lover' was Half Dome," she says, "the iconic rock formation in Yosemite." When she reached the top, "I fell to my knees. It was one of the best moments of my life."
The science of natural highs
Scientists have long known that some decidedly nonsexual things can get our brains going. For instance, researchers at Baylor College of Medicine in Houston found that a baby's smile activates a region in the mother's brain known to produce feelings of euphoria.
The same can be said for money and praise; Japanese researchers have linked both to the brain's pleasure centers. In other words, whether you get a raise at work or a big compliment from the person you're dating, your striatum -- the brain's reward system -- is likely to be turned on.
Anecdotal research maintains that shopping does it, too. According to a small study released earlier this year by the British research and consulting firm MindLab International and sponsored by retailer T.J. Maxx, successful shopping produces a euphoric experience equal to kissing and other romantic activities. The informal study, which followed 12 women for a day of shopping, found that heart rates increased to 192 beats per minute while shopping and, in particular, when they discovered an exciting find -- more than triple the normal resting heart rate of 60.
The thrill of the crowd
Sometimes the best natural highs come from facing a crowd, a challenge that can be terrifying for some. Terry Wisner, 58, of Grand Blanc, Michigan, says it's public speaking that turns him on. Not surprisingly, he's a professional speaker and leadership coach.
It's not that he likes to hear himself talk -- "it's all about the audience's reaction," says Wisner.
He particularly remembers the time he took the stage in front of a crowd of 8,000 in Las Vegas at an automotive convention. "The connection to that audience was amazing," he says. "Not just for me, but for them as well. This event took place over 5 years ago, and I still hear from audience members every now and then. It still rocks my world just to think about it."
Sausalito, California, resident Andy Kurtzig, 35, finds his pleasure on a plate. The CEO of JustAnswer.com regularly travels to the celebrated Napa Valley restaurant French Laundry.
"Each course is like foreplay," he explains. "Not too much, not too little -- just enough to make you want more. Each course gets you progressively closer to tantalizing your taste buds even more. The entire three-hour buildup is incredible!"
Addicted to that feel-good feeling?
Love something a little too much? You might want to start worrying, says Frederick, if it's helping you mask or avoid underlying feelings, issues, anxiety or discomfort -- "for example," he says, "being overly active, or addicted to working out, as a means to regulate one's anxiety."
The good news, he says, is that unlike drugs and alcohol, which produce dopamine in the brain, natural highs are less likely to be physically addictive.
"Research has shown that addictive substances like alcohol, nicotine and heroin activate a single pleasure circuit in the deepest and oldest part of the brain," says Frederick. "People become addicted to these substances because their systems become used to higher levels of dopamine and, when they don't get it, feel deprived. A drug floods the brain with dramatic levels of dopamine that are not the same as what is produced during a natural high."
In short, he says, behaviors that cause natural highs may be a ton of fun, "but they don't have the same propensity to become addictive."
E-mail to a friend

LifeWire provides original and syndicated lifestyle content to Web publishers. Sarah Jio's work has appeared in 'SELF," "Glamour," "Cooking Light" and many other publications.
All About Sexual and Reproductive Health • Romance