(OPRAH.com) -- Many people dream of winning the lottery or striking it rich, but in reality, 70 percent of people who become instantly wealthy squander their money away within a few years.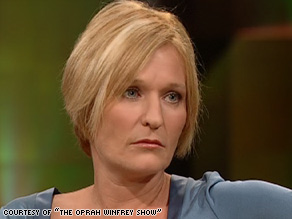 Before Nadine realized that material things couldn't make her happy, she spent time in rehab and prison.
Nadine grew up poor in Greenwich, Connecticut. At the age of 19, she packed her bags and moved to New York City to pursue her dream of becoming a fashion designer. Nadine started by selling scarves at street fairs and flea markets, and within a few months, she had accumulated more than $60,000 in cash.
This small-town girl's dreams started to become more of a reality after she married her husband, Toru. Together Nadine and Toru decided to take a risk and open Yoshi, a trendy clothing boutique in New York's SoHo neighborhood.
Within six months, Yoshi was becoming one of the hippest stores in the city, and Nadine and Toru were turning a profit. Their first year of sales topped $1.2 million, and during their best year, Nadine says they made $2.2 million. "It was amazing how much cash was coming in and also how fast we were spending it," Nadine says. Oprah.com: What to do if a windfall comes your way
Nadine and her husband started hanging out with an elite crowd. They took extravagant vacations, paid $500,000 in cash for a new condo and spent about $1,000 a week at New York's finest restaurants. "I felt like I had arrived," Nadine says. "At the time, it was my dream life."
Nadine, her husband and their three children were living in a beautiful home and enjoying the success of their small boutique ... until Nadine's life took a sudden turn.
"I hung out with the beautiful people, and I felt very inadequate," Nadine says. "Like I wasn't up to their level... like the people were going to find out I was a fraud."
That's when Nadine decided to start using drugs. "Cocaine gave me a feeling of strength," she says. "It was a really good feeling in the beginning."
Nadine became a cocaine addict and developed a $600-a-day habit. She estimates that she spent about $250,000 in one year on drugs. Nadine's husband divorced her and she lost custody of their children.
After the divorce, Nadine began abusing heroin and ended up homeless, sleeping on the street and in subway tunnels. "One of my lowest points was being homeless and living in the New York City subway system in the tunnels and not being able to see my children," she says. Oprah.com: When a homeless man suddenly becomes rich
After stints in rehab and in prison, Nadine says she did a lot of work on herself and realized she had been trying to fill a hole in her heart with material things. She says she thought she needed the fancy car, the clothes and the trips to make her happy. "[I didn't realize] that man makes the money, money doesn't make the man," she says.
Since then, Nadine has been picking up the pieces and rebuilding her life. She's been clean for five and a half years. "It was a long, rough road," she says.
She's currently running three clothing boutiques with her sister. The stores are called Purdy Girls, and Nadine does the buying for all three locations. She's also living in an apartment with her children and managing her finances.
"I don't have a lot of extra. I pay my bills, [but] it's tough," she says. "I wouldn't mind having the money that I had back then, but I definitely don't want the lifestyle. I'm so much happier with the way that I am now."
Our winnings changed others
Amy and Tom were working full time and living paycheck to paycheck when a quick trip to a convenience store changed their lives forever.
One night, Amy ran out to the store to buy a gallon of milk, but returned with a lottery ticket instead. "I thought, 'I'm just going to buy some lottery tickets and see what happens,'" she remembers.
That same evening, Amy called the lottery office to check her numbers ...and found out she was the big winner! The roll of quarters Amy brought to the store had suddenly grown into $15.5 million. "It's an unbelievable feeling to win that much money," she says. "I thought, 'I'm set for life.'"
Amy quit her job driving buses and Tom quit his job building cabinets, and the new millionaires began spending their winnings. The money, paid out annually over a 20-year period, totaled $487,000 per year after taxes.
The couple bought a big new house and took expensive trips to Ireland, Alaska, Cancun and Hawaii. "We just bought whatever we wanted," Amy says. "It's amazing how fast that money can go."
As Amy and Tom started enjoying their new lifestyle, friends and family began asking them for loans. Amy estimates she's given away almost a million dollars over the years. "I've been hurt many times by people that I thought were friends," she says. "I just have a problem with saying no."
Amy and Tom eventually moved to another town where nobody knew of their windfall. Sometimes, Amy says, she regrets winning the lottery.
"A lot of my friends from New York, I do not speak to anymore, and I have two brothers that don't talk to me anymore," Amy says. "I do wish that I bought the milk sometimes because I wouldn't have half the headaches that I have [now]."
Although Amy says the money hasn't changed her, she thinks it's changed the people around her. "I wish I was poor old Amy back in New York where everybody just liked me for me, and they didn't look at me with dollar signs in their eyes," she says.
If Amy could go back and do things differently, she says she never would have gone public with her winnings. "I wish I wouldn't have done the media thing. [I should have] kept [the news] to myself."
Elizabeth, a stay-at-home mother, will receive $1.3 million to be paid to her over time after a lawsuit stemming from her father's death. Of the $260,000 she's received so far in two years, Elizabeth says she has just $18,000 left.
"I just never felt any pride in it," she says. "There was so much grief and emotion that went with the situation that I just let it go."
From "The Oprah Winfrey Show"
E-mail to a friend

Subscribe to O, The Oprah Magazine for up to 75% off the newsstand price. That's like getting 18 issues FREE. Subscribe now!
TM & © 2009 Harpo Productions, Inc. All Rights Reserved.