By Linda Petty
CNN
(CNN) -- Another index to keep an eye on in these economically turbulent times is the "anxiety index": It goes up when markets go down and people get upset and worried about their future.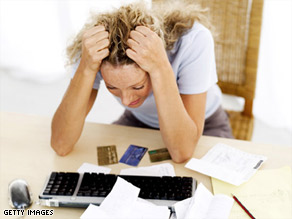 Overspending and not opening bills can be signs of financial anxiety.
Many people don't understand how Wall Street works, but they can see that housing prices are tanking, food prices are rising and gas prices are soaring.
When that pot of gold also known as a retirement account starts to disappear down an economic black hole, it can be very unsettling.
This increased dread and anxiety makes some people behave in unhealthy ways, said Nancy Molitor, a psychologist in private practice who is a public education coordinator for the American Psychological Association.

Watch and rate your financial fear level »
"In 20 years, I've never seen it this bad," Molitor said. Those bad behaviors, she said, can range from drinking and overeating to gambling and shopping.
For example, Molitor is treating an upper-middle class woman who was so anxious about money, she started shoplifting and sought help only after being arrested.
Another patient, an elderly woman, was so concerned about having enough money to live out her life, she started gambling her pension away in a misguided effort to win big.
Anxiety can also push people in the opposite direction, causing them to freeze. Molitor worked with one young woman who was so anxious, she was staying home from work.
"She was using up her sick days because she felt too stressed to go to work," Molitor said. "She had survived layoffs at her company, but that left her to do the jobs of two to three people who were gone. She had run up credit card debt of close to $10,000 and had school loans to pay off."
Don't Miss
The woman was treated for a work phobia that required medication, Molitor said.
Real financial issues can put people's lives on hold. Older people can be financially unable to retire but fearful they'll lose their jobs. High school graduates can be unable to pay for college.
"You have to open those bills," said Glinda Bridgforth, a financial coach who said she herself suffered the pain, shame and anxiety of living beyond her means before she learned about managing her money.
She is a regular contributor to Essence magazine and the author of three books, the latest "Girl, Get Your Credit Straight."
Bridgforth said people overspend for three reasons: low-self esteem, feelings of financial or emotional deprivation, or fear.
"Fear of not having enough money, fear of losing it all in the stock market or fear that someone will take their money," Bridgforth said, adding that poor and rich alike can suffer from fear.
The first step is to do a reality check. Determine your income and your cash flow: where your money is going and how much you owe. Watch how to protect money in your bank
The financial coach said knowledge can be a cure. You might need professional help, she said, to see the problems clearly, to figure out what is necessary and what is a luxury and set up a plan to reach financial security.
Keep an eye out for painful surprises. You may have a line of credit with your bank, but all the bank has to do is send you a letter and your line of credit could shrink or disappear or the interest rate could jump, Bridgforth warned.
She also recommends to take the time to read your credit card statements carefully, because credit limits can change. Always read the disclosure pamphlet, the tiniest of print, to find any changes in terms or conditions for your card.
Many people in trouble are reaching out for help. Gail Cunningham, the spokeswoman for National Foundation for Credit Counseling, said phone queries have increased 20 percent and the foundation's Web site traffic has increased 14 percent, all in one week.
The upcoming holidays may be a tough time for those used to racking up debt playing Santa Claus.
"Consumers have every reason to be afraid because we're going into the largest shopping season of the year," Cunningham said.
"With the slightest financial hiccup, banks could raise interest rates and lower credit limits," meaning if issuers view the consumer as a risk, buying power could be diminished.
Even investing in your future can feel really risky.
Certified Financial Planner Doug Flynn said he challenges his clients to determine their true "risk tolerance." That tells him what diversification of their investments will allow clients to both make money and sleep at night.
Flynn said that while some brokers have told him their clients are bailing out right and left from the stock market, not a single one of his clients has cashed out their retirement funds.
Putting their money into appropriate allocations of stocks and bonds for their risk level, their goals and the length of time until their retirement makes people feel more comfortable in troubled times, he said.
"It's not just age" that fuels money fears, said Flynn, a partner in Flynn Zito Capital management. "I've had elderly clients who are crazy-aggressive and young clients who are crazy-conservative."
The company managing your 401(k) may offer a program that will help you determine your own risk level. Many financial calculators also are available for free on CNNMoney's retirement Web site.
Managing your money will help you manage your fears, Flynn said. Step No. 1 is learning to live within your means and look at every dollar you earn as if it were only 80 cents. He said that other 20 percent of your salary should be saved.
He also urges clients to invest for their future on a regular, dollar-cost averaging schedule no matter what the market is doing. If you're uncomfortable buying when the market is down, he said to remember the investors' mantra: "Buy low, sell high."
But, he said, any money that will be needed soon -- say, for buying a house -- should not be invested in the market.
E-mail to a friend

All About Financial Markets • National Economy