By Jen Haley
CNN
(CNN) -- The Beardstown Ladies, the famous investment club founded in 1983 by a group of grandmotherly women in Beardstown, Illinois, have seen their share of market crises.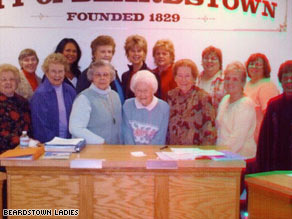 The Beardstown Ladies club says it's been business as usual for the investment group.
And when it comes to this current financial crisis, the club is undeterred.
"We formed the club to learn," said Carnell Korsmeyer, one of the original members. "You learn through the uptimes, and you learn through the downtimes. The lessons are hard, but they're still lessons."
Noreen Carpenter, the founder of the women-only Bigwigs Investment Club in Connecticut, says the large market swings have caused some members to worry about their investments and the future of their retirement.
"Discussing their concerns calmed them down a bit," Carpenter said. As she points out, they've been there before.
The Bigwigs started investing in 1999, during the dot-com boom.
"We had three or four tech stocks, so we took a bit of a beating. And because of that, we trimmed back. The dot-com bursting was the first blip. That solidified the feeling that we needed to be diversified," she said.
Diversification is one of the messages of the National Association of Investors Corp., otherwise known as BetterInvesting, an organization formed in the 1950s to help members choose stocks.
And that's key because an investment club is a group of people (usually friends or neighbors) who may not have any investing experience. Members usually pool their money to make investments. They meet at a house, a restaurant or perhaps a library.
At these meetings, members decide whether they will buy or sell a company. But sometimes, not a lot happens.
"It took us five months before we made a decision to buy a stock," Carpenter said.
Because investment clubs usually don't register with the Securities and Exchange Commission, there is no telling how many there are. About 9,500 investment clubs are part of BetterInvesting.
Membership in investment clubs peaked during the dot-com boom.
"That's when a lot of folks took a real interest in the market ... thinking there was no way you could lose money," said Dennis Genord of BetterInvesting. "We've slowly come back to reality."
From 2004 to the end of 2008, the number of investment clubs is expected to decline about 55 percent, according to the organization.
There's no question, these are hard times.
"This financial crisis is far deeper than most any of us have experienced," Genord said.
So how will investment clubs fare? When it comes to younger clubs, there may be reason to worry.
"A new club will tend to get nervous when they see a sharp decline in a company they bought. If they don't understand it, some will get nervous and pull the trigger and sell. That's unfortunate," Genord said. "But our veteran clubs have been through this. They've seen a lot of cycles. They're seasoned veterans. They know how to manage their stock portfolios."
Korsmeyer says that as far as the Beardstown Ladies go, it's business as usual.
"We haven't had any special meetings. We haven't done anything differently. We're just watching and riding it out," she said.
Bob Adams of the Up the Ante Investment Club in Seattle, Washington, says his club hasn't done very well.
"We have people that vary in their experience, and sometimes, we'll get led off into left field," he said.
But when it comes to a volatile market, you have to look at the bigger picture.
"We reinforce the fact that the market goes up. That's the only direction it goes, long term. Occasionally, it pauses or goes down. In the future, we'll look back and see a little wiggle in the overall chart," he said.
And it's not time to pull out of investments.
"Most members realize that this is something you have to put up with every once in a while. And when it's over, we'll be back on the path to growth. The market reacts quickly. The big boys get out quickly. We can't move that fast," he said.
Investment clubs are made up of anything but big boys. Most clubs have about a dozen members. Membership dues can run about $50 to $100. But at its core, Adams says, the real purpose of an investment club isn't to make you rich.
"The main purpose of a club is to educate its members. The money you put into the club is used as a tool in that learning process," he said.
E-mail to a friend

All About Personal Investing • National Economy • Financial Markets