(Real Simple) -- Turn old jump rope, dish towels, newspaper, and more into great gift packaging.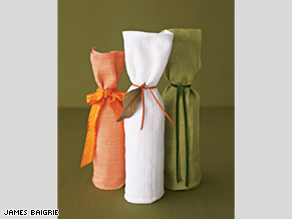 Wrapping wine bottles with dish towels is an elegant alternative to a Mylar bag.
Wrap wine bottles with dish towels
Original purpose: Drying dishes.
Aha! use: Transforming a bottle of wine into a gift. Reality check: A crinkly Mylar bag makes a wine bottle look like it came from outer space, not from the heart. By wrapping a bottle in an attractive dish towel (or linen napkin, fabric remnant, or piece of craft-store felt) tied with a nice length of ribbon, you can turn the perfunctory hostess gift into a proper holiday -- or any-day -- present.
How to do it: Place the bottle along one side of the fabric so that the bottle's top meets the top of the fabric. Fold up excess material at the bottom over the bottle, forming a pocket of sorts. Then roll it evenly and secure at the neck with ribbon.
Reward: Good taste and tastes good.
Tie up kids' presents with jump rope
Original purpose: Playing double Dutch.
Aha! use: Tying up a child's present. Jump-start a trend in the next round of kids' parties.
Reward: A fun, colorful decoration and an extra gift.
Tie up gifts with ponytail holders
Original purpose: Dealing with bed head when there's no time for a wash-and-dry.
Aha! use: Sealing up gifts with a twist of the wrist.
Reward: Your presents present well without your having to master the fine art of bow tying. Plus, this "bow" can be recycled to keep Heidi's braids from unraveling.
Wrap presents with newspaper
Original purpose: Looking up words, getting the news, finding your way.
Aha! use: One-of-a-kind wrapping paper. Leftover paper of all kinds -- wallpaper, old maps, last week's Sunday comics -- begs to be recycled as gift wrap. You'll see: Almost any mundane printed matter is transformed by a big, shiny ribbon. Use a copying machine's enlarger function to make much of small things. Choose a dictionary definition to suit the occasion: love for Valentine's Day, shamrock for Saint Patrick's Day, ageless for an anxious friend's birthday. Photocopy the page onto an 11-by-17-inch sheet of paper (if possible) at the highest magnification, repeat as needed to increase the word size, and squeeze in the choice part of the definition. When the boss catches you wasting paper and toner, offer to run off a set for her wedding anniversary.
Reward: Oohs and ahs from the impressed recipient.
Other use: Lining a birdcage.
Real Simple: 10 new uses for newspapers
Greeting cards as gift tags
Original purpose: Mantelpiece clutter, proof of popularity.
Aha! use: Gift tags. Last year's holiday and birthday cards may be too pretty to throw away, but they're probably not meaningful enough to keep. Cut out hearts, flowers, or any other whimsical illustration from the card's cover, avoiding handwritten notes on the opposite side, and stash them with your ribbons and wrapping paper.
Reward: It's not regifting; it's recycling.
Use old calendar pages as gift wrap
Original purpose: Reminding you when to report for dentist appointments and teacher conferences.
Aha! use: Gift wrapping. Personalize a birthday present by taking a page from that month and circling the special day.
Reward: No naked gifts, and no outdated wall hangings.
E-mail to a friend

Get a FREE TRIAL issue of Real Simple - CLICK HERE !
Copyright 2009 Time Inc. All rights reserved.
All About Shopping