(Real Simple) -- Follow these tips to keep your wallet (and your holidays) happy.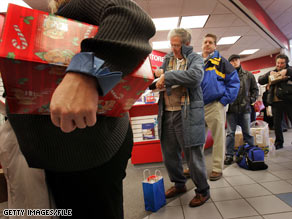 Mailing flat rate pays off when you ship heavier items.
Mail flat rate for heavier items. Choose this two- to three-day shipping option (for domestic destinations) from the U.S. Postal Service and pay the same amount regardless of box weight. For example, sending an 11-by-8 1/2-by-5 1/2-inch box from New York to California costs $9.80, whether it weighs 20 pounds or 70.
Send out holiday postcards. If you choose the standard 4 1/4-by-6-inch size, you'll save 15 cents a card (using a 27 cent stamp instead of a 42 cent one).
Say so long to expensive wrapping paper. Cover your gifts with butcher paper (about $16 for 500 feet) instead of "designer" paper (about $30 for 30 feet). Real Simple: Gift wrapping strategies
Stock up on wine by the case to present as hostess gifts. Most retailers offer a 10 percent discount on larger orders; just ask the next time you're at a wine shop. Some will even let you mix different brands in one box. Real Simple: Food and wine crash course
Top gifts with yarn. Pass on the $10-a-yard ribbon options and score a huge bundle of yarn-more than 70 yards-for just $2 to $6.
Stick with serving a signature punch or cocktail. Stocking a full bar can be quite costly-around $265 for wine, beer, liquors, and mixers to serve 25 guests.
Ditch disposable stemware. It may seem cheap (about $10 for 10 Champagne flutes), but the price of plastic can really add up, since you'll have to buy it for each party. Instead, visit a restaurant-supply store (check your Yellow Pages to find the nearest one). You'll find reusable glass stemware for around $1 a glass.
Search Craigslist.org. People who have just moved often give away large boxes (perfect for a dollhouse or a tricycle) through the site.
E-mail to a friend

Get a FREE TRIAL issue of Real Simple - CLICK HERE !
Copyright 2009 Time Inc. All rights reserved.
All About Shopping