By Pamela Brill and Maureen Salamon
(LifeWire) -- Cory Huff had extra reason to dread his great-grandmother's funeral back in 2003. Not only would he be burying a beloved relative, he'd also be introducing his new wife to the extended family.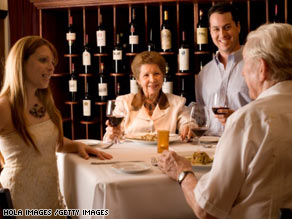 A sense of humor helps when meeting the family of your significant other, expert says.
A motley group of "very earthy people," Huff's relatives were sure to intimidate Lissie, he thought.
They didn't disappoint. One uncle, fresh from prison, pestered the Portland, Oregon, couple about when they would have children. Others made sure to report which family members they weren't speaking to in "very Hatfield and McCoyish" fashion, he says.
"I was hoping to break her in gently instead of having her meet everyone all at once," says Huff, 28, a sales manager. "She was totally shocked . ... As we were leaving, she said, 'You really weren't kidding.' "
"Cory likes to exaggerate things anyway, so I just figured he was taking certain things that were true about his family and blowing them up," says Lissie Huff, 25. "I thought it was a practical joke."
It's no wonder people can be hesitant to bring their significant others home -- particularly during the holidays.
"No matter how some individuals try to deny it, our families have a lot of power," says Toni Coleman, a licensed social worker and founder of Consum-mate Relationship Coaching in McLean, Virginia.
"If our families don't like or relate well to our new love, it can have a negative impact on our partner and the relationship and our ability to trust our own judgment when making any important life choices in the future'" the therapist says.
The added pressure of introducing a boyfriend or girlfriend who comes from a different background -- be it race, religion or political beliefs -- doesn't make matters much easier. "Often the family is opposed to their adult child choosing someone from a different background and may be overtly hostile or very inhospitable to [a significant other] who is 'not like us,' " Coleman says.
Justin Spring is hoping that's not the case when he meets fiancee Emily Schwalb's family in January. Spring, 20, a high school custodian, is not religious; Schwalb, 22, a pet sitter and child care assistant, is Jewish.
"I hope they get the right impression of me and what I am all about," says Spring, of upstate New York. "I will try to adjust to their style of living and their religion."
A chance encounter
Sooner or later, most couples who've been dating will introduce each other to their respective families, but sometimes unforeseen events speed up the timetable. Donna Johnson's first face-to-face with boyfriend Rodrick Walker's parents eight years ago came when she delivered him home from jail.
As it happened, his parents were happy to meet Johnson, whose willingness to fetch Walker -- he was picked up over an outstanding speeding ticket -- impressed them.
"It was funny and shocking at the same time," says Walker, 37, who now shares a home and 6-year-old son with Johnson in Austin, Texas.
That incident -- and Johnson's honest acceptance of the situation "set the tone for our relationship," notes Johnson, 36, a public speaker and business coach who also has a 14-year-old daughter.
Philadelphia consultant Matthew Swinand didn't want his girlfriend's first encounter with his parents to be quite that abrupt -- although that's the way it almost occurred. He and Sabrina Sukhan, both 30, were eating at a restaurant in May 2006 when he discovered that he was out of cash. Swinand make a quick dash to a nearby ATM and ran into his parents, who were also enjoying a night out.
"When they asked what I was doing and who I was with, my mom got very excited," recalls Swinand, 30. "Luckily, my dad is the voice of reason. He told my mom to hold off, but she kept trying to peek in the restaurant window."
Instead, Swinand opted to introduce Sabrina -- whom he'd been dating for about six months at that point -- a few weeks later. The family spent much of the day together at a local regatta, so it gave them something to talk about in a neutral setting and things went smoothly.
"I had stopped bringing girls I was dating home because I didn't want to keep answering too many questions from my mom," admits Swinand. "The next time I did, I knew it had to be someone I was serious about."
Sukhan, an ob-gyn in Philadelphia, agrees.
"My family doesn't want to meet someone I've been dating for two seconds," says Sukhan, who's now engaged to Swinand.
Prep work
Thinking of bringing home your serious someone to meet the folks for holiday dinner or another occasion? Consider these tips from Coleman to make it a more palatable experience for everyone.
• Sit down together in advance and talk about who will be there and what to expect.
• Be proactive and find a good ice-breaker gift that your significant other can present to Mom and Dad.
• Talk about family mealtime habits with your partner. For instance, some folks are expected to pitch in during clean-up, while others prefer that guests stay out of the kitchen. If you'll be dining out, discuss how the check will be handled to avoid any embarrassment.
• If a family member happens to say or ask something inappropriate, gently but firmly let that person know that such comments are not acceptable. And once you have a moment alone as a couple, be sure to let your partner know that your family neither speaks for you, nor do they influence how you feel or what you believe.
• Keep your humor intact; laughter is a great tension reliever.
E-mail to a friend

LifeWire provides original and syndicated content to Web publishers. Pamela Brill, a freelance writer in Northport, New York, contributes to a variety of lifestyle and special-interest publications. Maureen Salamon is a New Jersey-based freelance writer.
All About Family • Dating • Relationships