WASHINGTON (CNN) -- A steady stream of superdelegate endorsements on Tuesday pushed Sen. Barack Obama over the threshold to lay claim to the Democratic presidential nomination.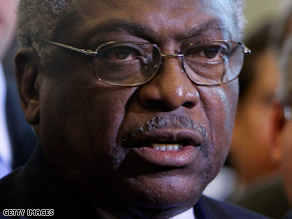 Rep. James Clyburn says Sen. Barack Obama "is redrawing an electoral map for Democrats."
As the polls closed in South Dakota on Tuesday, which along with Montana is one of two states holding the last Democratic nominating contests, CNN estimated that Obama had gathered the 2,118 delegates needed to capture the nomination.
Obama began the day 42 delegates short of being able to claim the nomination and an allocation of the 31 up for grabs in South Dakota and Montana wouldn't have been enough to clinch.
But all through the day Tuesday, announcements began to float from some of the 193 superdelegates who began the day uncommitted to either Obama or Sen. Hillary Clinton.
Among those declaring their support for Obama on Tuesday were former President Jimmy Carter Rep. James Clyburn, the top African-American in Congress.
Carter, a superdelegate who has frequently spoken favorably about Obama, told Britain's Sky News in May that while he had not yet announced his decision publicly, after the last Democratic primary, it would be time for Hillary Clinton to "give it up."
He also said Clinton "had a perfect right" to keep running -- but that "a lot of the superdelegates will make a decision quite, announced quite rapidly, after the final primary."
Clyburn, the House Majority Whip, had been critical of Clinton's campaign and of her husband, Former President Bill Clinton but had not backed Obama until Tuesday.
"I came to that decision because I do believe that he has elevated this campaign," Clyburn said of Obama. "He has energized our constituents. He is redrawing an electoral map for Democrats."

Watch Clyburn discuss Obama's chances »
Primary season ends
Join CNN as voters in the final two states cast their ballots.
Tonight at 8 ET
Clyburn's endorsement comes as a top Clinton backer, Sen. Dianne Feinstein of California, also said it is time for the former first lady to end her campaign.
Feinstein said these final contests mark a "moment of truth" for the senator from New York.
The California Democrat repeated her view that Clinton should be tapped for the vice presidency.
"I think a decision has to be made about whether keeping this nomination wide open is in the best interest of winning in November," said Feinstein, who endorsed Clinton last summer. "I do not believe that it is, and I'm a very strong supporter of Hillary being placed on the ticket as a vice presidential candidate."
Another Clinton supporter from California, Democratic Rep. Maxine Waters, switched her support Tuesday from Clinton to Obama, according to her office.
But not all Congressional superdelegates are ready to back a candidate.
Don't Miss
Senate Majority Leader Harry Reid said Democrats shouldn't rush the primary process.
"I believe that we should wait until after the primaries are finished," Reid said, adding that if Obama clinches the nomination Tuesday, "Sen. Clinton needs to be left alone. And let's get through the primary process and let this week work its course."
Thirty-one pledged delegates are up for grabs Tuesday in Montana and South Dakota.
Superdelegates in the Senate said they'll be making their intent clear Tuesday and Wednesday.
Sen. Benjamin Cardin of Maryland said he would make a decision "shortly after the polls close."
Sen. Ken Salazar of Colorado predicted that "most of us will wait until tomorrow."
"I think we need to allow for an opportunity for Sen. Clinton to do what people expect her to do," he said, "but people have to give her space to get that done."
Nebraska Sen. Ben Nelson, an Obama supporter, said, "Some sort of gracious exit would be appropriate," but, "Sen. Clinton's going to need to decide how she handles that."
In endorsing Obama, Clyburn dismissed Clinton's argument that she would be a better candidate in the general election in key battleground states such as Ohio and Pennsylvania, which she carried during the primaries.
"I think that you're mixing apples and oranges if you were to just take what happens in a Democratic primary and project that to ... November," he said.

Watch as Clyburn endorses Obama »
He also suggested comments that former President Clinton made during the primary in South Carolina -- Clyburn's home state -- may have dented his wife's support.
"In some instances, President Clinton did in fact say some things at times that made some of us a little bit uneasy," Clyburn said.
The former president set off a firestorm of criticism for remarks that some found racially insensitive -- such as noting that the Rev. Jesse Jackson also won South Carolina in the 1984 and 1988 primaries. It was widely seen as a suggestion that Obama's success in the state was largely based on race.
Bill Clinton later said his opponents were playing the "race card" against him.
A fellow South Carolinian and another superdelegate, Rep. John Spratt, said Tuesday that he will back Obama.
"More important to me is the fact that Sen. Obama, in seeking the nomination, has shown that he is highly capable, clearly competent and equal to the challenge," Spratt said in a news release.
After winning the Puerto Rico primary Sunday, Clinton said she was taking the presidential race "a day at a time" and was reviewing the "options available."
Her campaign suffered a setback Saturday when the Democratic National Committee's Rules and Bylaws Committee decided the disputed delegations from Florida and Michigan would only have half of their votes.
The DNC initially had stripped the two states of all their delegates for holding their primaries too early in violation of party rules.
Clinton won the Michigan and Florida contests in January. No candidates campaigned in the states and Clinton was the only major candidate on the Michigan ballot. Her campaign argued that both states' delegations should be seated with full votes, which would have allowed her to cut into her rival's delegate lead significantly.
E-mail to a friend

CNN's Ted Barrett, Kate Bolduan, Gloria Borger, Candy Crowley and Ed Hornick contributed to this report.
All About Election Campaigns • James Clyburn