(CNN) -- The warm-up contests are over, and the big battle now starts in earnest -- one against one with the prize the keys to the White House.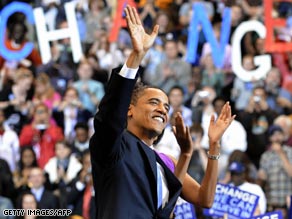 Barack Obama savors his victory as the presumptive Democratic nominee for president.
In the red Republican corner, John McCain, a Vietnam War hero who sells himself as a maverick but who at 71 is also fighting age.
In the blue Democratic corner, Barack Obama, the first African-American nominee for a major party, but critics say he is too inexperienced for the top job.
Some of the battle lines have been drawn: Iraq and national security, experience vs. change, and the economy.
McCain, who became the presumptive Republican nominee in March, has assumed for weeks that his opponent would be Obama and has been aiming fire at the Illinois senator.
McCain has painted Obama as naïve about the Middle East, especially his willingness to consider talks with Iran's president and his opposition to the surge of U.S. troops serving in Iraq, a policy McCain supported and that he says is working. iReport.com: Which issues are you focusing on?
Obama has hit back with the charge that a vote for McCain would be a vote for a third term of George W. Bush policies rather than the change he says the U.S. people want.
Don't Miss
During the campaign, the candidates will have to face each other in televised debates, the rules of which have yet to be decided.
These debates are usually the only times the candidates are seen in the same room during the general election, and they are watched across the country.
Each answer, expression and reaction will be pored over by pundits looking to tell voters who won the debate.
As in the primary process, U.S. voters do not directly vote for the president. State votes are converted into Electoral College votes, and generally, the state's winning candidate gets all the state's electoral votes.
The bigger states have more votes than the smaller ones, and a candidate needs 270 electoral votes to win.
To hit the 270, the campaigns will split states into three camps: those they expect to win, those they expect to lose and those that either side could win.
This final group -- the battleground states -- will become the center of the political universe as both candidates will need to win them, and they will return again and again to these stomping grounds.
This time round, Florida and Ohio are again expected to be among the key battlegrounds.
Neither McCain nor Obama becomes the official nominee until the party national conventions, but that is largely a formality, and by the time of the conventions, both will have picks for the vice president's job.
When looking at vice presidential candidates, McCain and Obama must consider a series of factors, such as whether they can work with the candidate and will the candidate help win states in the election.
E-mail to a friend

All About John McCain • Barack Obama