By Alexander Mooney
CNN
(CNN) -- Sen. Barack Obama said Thursday that he's in no rush to pick a vice presidential candidate, telling CNN "everybody needs to settle down" and let the vetting process run its course.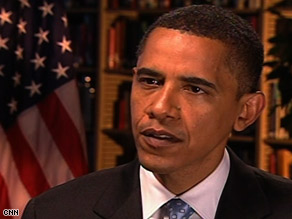 Sen. Barack Obama discusses the state of the race with CNN's Candy Crowley on Thursday.
Speaking with CNN's Candy Crowley on Thursday in Bristow, Virginia, the presumptive Democratic presidential nominee said it's not in his best interest -- or in the interest of former rival Sen. Hillary Clinton -- to make a hasty decision about whom his running mate will be.
"We just completed this arduous process," Obama said. "It's only been two days, and I think it's not just in my interest and Sen. Clinton's interest, but in the Democratic Party's interest and the country's interest to make sure I make this decision well."
Calling his choice of running mate "the most important decision that I will make before I am president," the senator from Illinois said he would "be deliberate and systematic about it, because this will be my final counselor when I am making decisions in the White House, and I want to make sure I get it right."

Watch Obama talk about his VP options »
Many of Clinton's supporters have publicly called on Obama to put Clinton on the ticket to help unify the party since he captured the nomination Tuesday night.
A senior adviser to the Clinton campaign said the New York senator is not actively campaigning for the job but would accept it if it were offered. But the adviser added, "She doesn't think it's going to happen."

Watch full interview »
Don't Miss
"While Sen. Clinton has made clear throughout this process that she will do whatever she can to elect a Democrat to the White House, she is not seeking the vice presidency, and no one speaks for her but her. The choice here is Sen. Obama's and his alone," campaign spokesman Phil Singer said Thursday.
Obama also said he would not respond to pressure from others about his choice of running mate.
"We have a committee that's made up of wonderful people. They are going to go through the procedure and vet and get recommendations. I will meet with a range of a people, and I will ultimately make a decision.
"I am a big believer in making decisions well, not making them fast and not responding to pressure," he said.
The comments come a day after Obama's campaign announced that Caroline Kennedy, the daughter of President Kennedy, will take part in his vice presidential search team.
Former Fannie Mae CEO and longtime Washington insider Jim Johnson and former Deputy U.S. Attorney General Eric Holder are also on the committee.
Obama, who spent his first day of the general election campaigning in the "purple state" of Virginia, also said he expected to have a conversation with Clinton about the party's future.
That conversation could come as soon as this weekend, when Clinton is officially set to bow out of the presidential race during an event in Washington and urge her supporters to back the Illinois senator.
In the wide-ranging interview, Obama said attaining universal health care -- the issue most prominently touted by Clinton -- and a new energy policy are the two domestic issues he is most concerned about.
"We are going to pass a universal health care bill; it is long overdue," he said. "The time is right."
On soaring gas prices, Obama said, the only answer is a long-term energy solution.
"That means increasing fuel efficiency in our cars, investing in alternative fuels and drastically revamping how we think about clean energy."
On the issue of Iraq, Obama didn't rule out the possibility that conditions on the ground could alter his policy of immediately beginning a troop withdrawal from the country
"Well, you know, I'd never say there's 'nothing' or 'never' or 'no way' in which I'd change my mind," he said of his withdrawal policy. "Obviously, I'm open to the facts and to reason. And there's no doubt that we've seen significant improvements in security on the ground in Iraq. And our troops, and Gen. [David] Petraeus, deserve enormous credit for that."
"I have to look at this issue from a broader strategic perspective, though," he added. "And in terms of long-term strategy, I am absolutely convinced that the best thing we can do is to set a clear timetable, tell the Iraqis we are going to start pulling out and do it in a careful fashion."
Perhaps with an eye to California's 55 electoral votes, Obama also predicted that the Los Angeles Lakers would defeat the Boston Celtics in six games for the NBA Championship. But the longtime basketball fan said he didn't have a favorite team and is instead rooting for Celtics forward Kevin Garnett.
"I think he's great," Obama said.
E-mail to a friend

CNN's Gloria Borger and Ed Hornick contributed to this report.
All About Barack Obama • U.S. Presidential Election