(CNN) -- With Democratic Sen. Barack Obama and Republic Sen. John McCain as the presumptive nominees in this year's presidential election, the question remains as to who they'll choose as their running mates.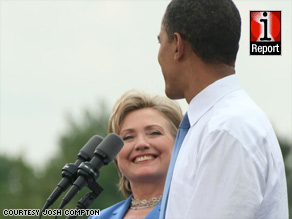 iReporters' views are strong on whether Sen. Barack Obama should put Sen. Hillary Clinton on the ticket.
We asked iReport.com users who they would like to see as the vice presidential candidate for both tickets, and there was a lot of buzz about the possibility that Obama will put Sen. Hillary Clinton, on the ticket.
Shawn Stroud of Winter Park, Florida, says he will only vote for Obama if Clinton joins him on the ticket. Otherwise, McCain will get his support, he says.
"I would have liked Obama if he had stood up for the voice of the people and demanded that their votes count in Florida and Michigan," Stroud says, referring to primary season when the Democratic Party stripped those states of their delegates for holding contests too early. Stroud feels Clinton, on the other hand, better advocated for voters' rights.
iReporter ten33 says it is "ludicrous to consider Hillary Clinton as a viable vice presidential candidate. She does not like [to play] second fiddle..."
Wayne Phillips of Concord, California, also opposes the idea of an Obama-Clinton ticket. "Hillary may be competent, but we can all agree that she would not be loyal to President Obama." So who would Phillips like to see instead? "Here's a hint. Vice President Webb," he said, referring to Virginia Sen. Jim Webb. (On Monday, Webb said unequivocally that he does not want to be Obama's second in command.)
iReporter David Dunmeyer of Pittsburgh, Pennsylvania, believes Clinton is the "only choice" for the vice presidential nomination and is willing to vote for McCain if she is not on the Democratic ticket. iReport.com: Who's your VP pick?
For iReporter Oliebermann66, Sen. Joe Biden "satisfies Obama's lack of experience both in time serving in a national publicly elected office and in foreign policy."
As for McCain's running mate, Oliebermann66 thinks that Sen. Joe Lieberman "captures the center-left leaning moderates that could swing this election."

Read a CNN producer's take on the pros and cons of potential running mates »
iReporter OSGOOD says Secretary of State Condoleezza Rice would increase McCain's chances of making it to the White House. "Not only is McCain representing the older population, but Dr. Rice will win the minority votes for him. ... She has done a great job as Secretary of State and look, even North Korea is starting to ease down."
"The bad news for McCain," OSGOOD adds, "is that Dr. Rice is not interested in running." Predict who'll be the VP candidates in CNN's Political Market
Repeat iReporter William Bernstein Jr. of Virginia Beach, Virginia, supported former Arkansas Gov. Mike Huckabee's presidential bid and hopes he's on the McCain ticket.
"I really think the best running mate for him, hands down, has to be Mike Huckabee. ... I've met Mike Huckabee personally, he is a great guy, he has good views, views that are for change," he said.
Brandon Casey of Milwaukee, Wisconsin, wants Obama to run with former Secretary of State Colin Powell, saying "he was the lone voice of reason during Bush's first term," while iReporter GoodCitizen wants Powell to be McCain's running mate. Meanwhile, iReporter DSG7 says both candidates should "seriously consider" Powell as their running mate.
Below, read more iReport.com comments about who should run for vice president, some of which have been edited for length and clarity.
ChevyGirl: This is history in the making. We must set aside our differences and do this the right way. Obama, I wish Dr. Martin Luther King was alive today to see your accomplishments. He would be very proud of you. It is very important that Hillary Clinton be a part of this ticket. She is a hard worker, and the two of you can run this country.
DemocratDrew: Kathleen Sebelius appeals to the working class demographic that Barack Obama has, according to the media, failed to bring in. Coincidentally, this is the same demographic that Hillary Clinton has a strong hold on.
Sebelius' overall appeal to Midwestern states would help Obama overcome his given "elitist" status (which is quite undeserving) and capture moderate voters. Sebelius won over moderates in her own state of Kansas when running for (and winning) governor.
Could Sebelius' "blue-collar-ness" help propel Obama to the White House? You betcha! Obama/Sebelius '08!
Rashinda Hutchinson of Visalia, California, a former Clinton supporter: Just because she [Clinton] got 18 million votes doesn't necessarily make her vice presidential material.
CuringAutism: Mayor Michael Bloomberg, longtime rumored as a presidential candidate, could be the "huge asset" our country needs and possibly make the best vice president right now. His insights on running business, government, and global economics are the keys to stabilizing the U.S. economy and overcoming tough times for all citizens. He is very popular in New York, and destined to gain popularity nationwide once he is better known by the rest of the country.
WiggleSock: It's very, very simple. If Obama does not ask Hilary Clinton to be VP, he clearly does not have the best interests of the country in mind. No Clinton, no vote.
jp120: When Barack Obama came to national prominence in 2004 as keynote speaker for the Democratic National Convention, he emphasized that there was "not a liberal America or conservative America, there's the United States of America." It is this idealism that brought the message of "hope" that he has campaigned on since.
One of the most visible ways to offer this idea of bipartisanship is to make an influential politician like Sen. Chuck Hagel the VP. While he is a Republican U.S. senator from Nebraska, he has been a vocal critic of the war in Iraq, and offers many moderate positions that appeal to both Republicans and Democrats alike.
chris1963: I think Mitt Romney would be a great VP on the Republican ticket. McCain doesn't really have a strong economic side to him, and Romney is outstanding when it comes to economics. It makes sense.
wamugo: Here is my advice for the Democrats: Clinton would have been a good choice for VP, but she failed the test when she failed to accept defeat. Let's go with a woman that deserves it all, and that woman is Nancy Pelosi. Nancy Pelosi is a born leader, and I strongly believe that she can deliver!
RightWingTim: Let's face it. John McCain is about as exciting as Bob Dole. He is a great guy and a true hero, but he is old and not very charismatic. He also has some issues with his conservative base. What McCain needs is a young, socially and fiscally conservative Washington outsider with national party recognition -- and preferably a governor of a battleground state.
Many people have hinted at Charlie Crist. However, Crist does not hit it off with Republicans nationwide -- he is more of a moderate than anything.
The answer for McCain is Minnesota Gov. Tim Pawlenty. He is young, conservative and extremely popular in Minnesota -- a state that went blue in 2004.
lynnscole: Hillary would be good, but I don't know that she could take second chair. Anyone else is just another politician. Why would Gore want to play second fiddle again? Colin Powell is an interesting idea, but would he cross the aisle? There are a lot of Ron Paul supporters out there. He was discussing real change.
bochaberi: New Mexico Gov. Bill Richardson and Obama will be a winning ticket. Richardson has a lot of foreign policy experience.
E-mail to a friend