By Alan Silverleib
CNN Political Unit

WASHINGTON (CNN) -- What a long, strange, unhappy trip it's been for Bill Clinton.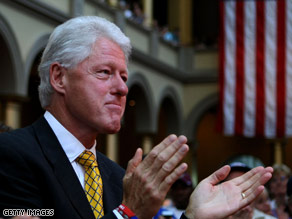 Former President Clinton watches his wife announce that she is suspending her campaign Saturday.
When Sen. Hillary Clinton officially launched her drive for the White House 17 months ago, the former president's possibilities seemed endless. His wife's nomination by many of the party faithful was seen as a virtual certainty.

When the Clintons moved back into 1600 Pennsylvania Ave., the political world would once again be Bill Clinton's oyster. Maybe there would even be a co-presidency.
Perhaps he would get another crack at settling the Israeli-Palestinian conflict. Some even speculated that he would follow in the footsteps of William Howard Taft and become the second ex-president to serve on the Supreme Court.
Suddenly many of those possibilities are gone, or at least significantly reduced. The 42nd president's reputation as a master politician and respected elder statesman has been damaged. Some Clinton partisans are privately grumbling that he helped sink his wife's presidential campaign.
How did this happen? How did it all go so wrong for the man who almost single-handedly led the Democrats out of the political wilderness 16 years ago?
For starters, the question of how Hillary Clinton's team should best use Bill Clinton on the campaign trail was never completely resolved.
Her campaign had to perform what may have been an impossible balancing act. On the one hand, it had at its disposal a spouse who was almost universally admired in the Democratic Party. On the other, Hillary Clinton needed to demonstrate her independence and strength outside of her home state of New York as a genuine political leader in her own right.
Second, even when the campaign struck the right balance, it couldn't always get the former president to the stick to the script.
Bill Clinton's first major verbal stumble came in the run-up to the New Hampshire primary. He told a crowd at Dartmouth College that Sen. Barack Obama's claim to have been an early and consistent opponent of the war in Iraq was "the biggest fairy tale I've ever seen."
In the ensuing media uproar, many Democratic activists -- African-Americans in particular -- came to believe that the former president had, in fact, belittled Obama's entire campaign effort.
A little over two weeks later, the man once labeled by author Toni Morrison as "America's first black president" stumbled over the race issue yet again.
While stumping for his wife in heavily black South Carolina, he seemed to try to minimize the impact of a likely Obama win by noting that the Rev. Jesse Jackson also won the state in 1984 and 1988 but went on to lose both nominations by wide margins.
"Jackson ran a good campaign," Bill Clinton said. "And Obama ran a good campaign here."
Critics accused the former president of trying to peel off Obama's white supporters by marginalizing Obama as the "black" candidate.
Condemnation of President Clinton's remarks came loudly and swiftly. When Obama crushed Clinton in the South Carolina primary, exit polls indicated that the former president's campaigning was an important factor in determining the vote of approximately six in 10 voters. Those voters who professed to care most about Bill Clinton's efforts broke for Barack Obama over Hillary Clinton by a margin of 11 points (48 to 37 percent).
As the weeks dragged on and Obama slowly increased his delegate lead, the former president complained that the media's coverage of his wife's campaign was biased against her. His famous temper flared repeatedly when confronted by reporters and voters.
To make matters worse, Hillary Clinton's increasingly populist rhetoric was undercut by the news that the Clintons had earned a whopping $109 million since leaving the White House, largely due to his sizeable speaking fees.
Finally, on the eve of the last primaries in Montana and South Dakota, an article by Vanity Fair national editor Todd Purdum portrayed Bill Clinton as an angry, reckless individual who had been possibly "seeing a lot of women on the road," and whose personality may have changed since a 2004 heart bypass operation.
The Clinton campaign called it a "tawdry, anonymous quote-filled attack piece" and "journalism of personal destruction at its worst," but the former president came out stronger, calling Purdum -- the husband of his one-time White House press secretary Dee Dee Myers -- "sleazy," a "scumbag" and a "really dishonest reporter."
Although Hillary Clinton's campaign apologized on the former president's behalf, the damage had once again been done. The fallout from the Vanity Fair article was, for some Hillary Clinton's advisers and supporters, the final piece of evidence that the former president had been more trouble than he was worth on the campaign trail.
The numbers, however, present a somewhat more mixed verdict. Fifty-three percent of Americans viewed the former president favorably in a late April CNN/Opinion Research Corporation poll; 43 percent viewed him unfavorably.
These numbers are actually slightly better than Bill Clinton's 51 percent favorable and 48 percent unfavorable ratings at the time he left office. Although they may be low for a former president who remains above the political fray, they are not necessarily so terrible for someone who has been in the middle of a heated nomination fight since January 2007.
It should also be noted that Bill Clinton's favorability numbers have been consistently higher among those voters most likely to turn out in Democratic primaries and caucuses.
Looking ahead to the fall, Obama may be tempted to send the man sometimes referred to as "Bubba" into states like Kentucky, West Virginia, Pennsylvania and Ohio. Pivotal blue-collar Reagan Democrats have been reluctant to embrace the Illinois senator's message of change. Bill Clinton may still have enough of the old political magic left to sway some of these voters by Election Day.
And yet it is precisely Obama's emphasis on the need for change that may ultimately result in the former president sitting on the general election sidelines. Bill Clinton embodies, for many swing voters, the kind of partisan bickering that they are now eager to leave behind.
Although the former president's verbal stumbles and seemingly endless controversies may have worked to Obama's advantage in the primaries, they are more likely to help Sen. John McCain in the general election.
Clinton himself seemed to acknowledge this might be the end of the road for him last week. He told South Dakota voters Monday that this "may be the last day I'm ever involved in a campaign of this kind." If so, one of the most important and colorful chapters in modern American political life has now drawn to a close.
E-mail to a friend

All About Bill Clinton • U.S. Presidential Election