From Dana Bash
CNN Washington Bureau
PHILADELPHIA, Pennsylvania (CNN) -- Sen. John McCain is working hard to win over supporters of Sen. Hillary Clinton who may not be ready to back Sen. Barack Obama, the presumptive Democratic nominee.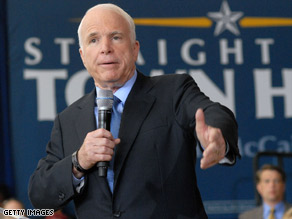 Sen. John McCain is reaching out to Democrats who backed Sen. Hillary Clinton.
McCain reached out to Clinton's base this week by resurrecting Obama's controversial comments during the primaries that blue-collar voters "bitter" about the nation's economy were "clinging" to guns and religion.
"I don't agree with Sen. Obama that they cling to their religion and the Constitution because they are bitter," McCain said Wednesday in Philadelphia.
On the economy, McCain also told voters he understands the pain caused by rising gas prices, but he didn't mention his proposal for a gas tax "holiday." His advisers had said it was a winning argument that he would be pushing all week.
The presumptive GOP nominee spoke off the cuff Wednesday instead of a planned speech on climate change. The town hall-type meeting was in the style of campaigning with which McCain is the most comfortable and an attempt, his advisers admit, to recover from last week's stumbles when he read from a teleprompter.

Watch how McCain tries to get back on message »
Don't Miss
At an event Tuesday in Washington, McCain said he would "veto every beer" that contained earmarks during a speech on economic issues.
McCain has been pushing for a series of town hall meetings with Obama in which the two candidates would take audience questions. The Obama campaign has said the senator from Illinois is interested in the idea, but the two sides have not agreed to a specific format.

Watch the candidates spar over the economy »
McCain also was knocked off his message Wednesday when NBC's Matt Lauer asked him whether he had an estimated date for U.S. troops to begin returning home from Iraq.
McCain told the "Today" show host, "No, but that's not too important. What's important is the casualties in Iraq. Americans are in South Korea. Americans are in Japan. American troops are in Germany. That's all fine. American casualties and the ability to withdraw; we will be able to withdraw."
Democrats quickly pounced on the "not too important" remarks.
Senate Majority Leader Harry Reid, D-Nevada, said McCain's statement showed that he "just doesn't get the grave national security consequences of staying the course."
Joe Biden of Delaware, chairman of the Senate Foreign Relations Committee and a former 2008 Democratic presidential candidate, said, "Sen. McCain's comment is evidence that he is totally out of touch with the needs of our troops and the national security needs of our nation. I think many of our brave soldiers and their families would disagree that it's 'not too important' when they come home."
The Democrats' reaction recalled what happened in January when McCain tried to make a similar point, saying he was OK if the U.S. stayed in Iraq "for 50 years, maybe 100."
"As long as Americans are not being injured or harmed or wounded or killed, it's fine with me, and I hope it would be fine with you if we maintain a presence in a very volatile part of the world where al Qaeda is training, recruiting, equipping and motivating people every single day," McCain said then.
The latest Democratic attacks forced the McCain campaign to scramble and pull together a conference call with reporters to fight back. The call featured allies who said the candidate's words had been distorted.
"I view the attacks on Sen. McCain this morning as another partisan attempt ... to distract the American people from the fact that John McCain has been both courageous and right about the 'surge' in Iraq, and Barack Obama has, unfortunately, been consistently wrong," Sen. Joe Lieberman said during the call, referring to the boost of additional troops in Iraq last year.
"I mean, the obvious fact is that, more than most any American, Sen. McCain knows the sacrifices that our men and women in uniform make and the burden that their families bear. And it really is wrong to suggest otherwise," Lieberman said, noting that McCain's son Jimmy has served with the Marines in Iraq.
McCain chose his words on the Iraq war more carefully at the town hall meeting later Wednesday in Philadelphia, saying the current strategy that increased troop levels was working.
"Sen. Obama claims it's not succeeding in defiance of all the facts on the ground. Is it long, hard and difficult, and are the causalities painful to us, even one? Of course."
By Thursday, McCain was back on message, pointing out the length of time since the Democrat had visited Iraq and questioning his leadership.
"There is no disputing the facts on the ground," McCain said in Boston, Massachusetts. "We're now in the 800 and something or other day since Sen. Obama has visited Iraq, even before the surge even began. And incredibly, he has still not asked to sit down with Gen. [David] Petraeus, our commanding general, and asked to be briefed by him on the situation in Iraq."
E-mail to a friend

All About John McCain • Barack Obama • Iraq War