From Ed Hornick
CNN

PHILADELPHIA, Pennsylvania (CNN) -- Sen. John McCain said Friday that every candidate's wife "should be treated with respect, and if there's any disrespectful conduct on the part of anyone, those people should be rejected."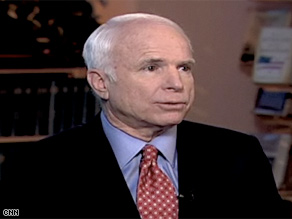 Sen. John McCain discusses the state of the presidential race with CNN's Dana Bash on Friday.
"I have the greatest respect for both Senator [Barack] and Michelle Obama. ... I've never met her, Mrs. Obama, she's a talented and a very effective person. And I admire both of them. We have stark differences in views," he told CNN's Dana Bash in a one-on-one interview.
"Americans want us to have a much more respectful campaign than the kinds they've been seeing recently."
The comment comes a day after Obama's campaign launched a new Web site, Fightthesmears.com, that aims to debunk rumors against the Illinois senator and his wife.
McCain also touched on his own vice presidential vetting process and whether he's considering former Massachusetts Gov. Mitt Romney as his running mate.
"Not yet," he said.
Romney, who clashed with the Arizona senator over economic issues during the Republican primaries, has campaigned for McCain since suspending his run for the presidency.
Don't Miss
McCain, however, sought Friday to downplay the negativity between the two during the hard-fought primary.
"There were specific comments and times that are made in primaries, but overall, I'm proud of the kind of primary that all of us waged. It was, with a few exceptions, a very honorable primary, which allowed us all to come together," he said. "And as I have gotten to know Mitt better, and his wonderful wife, Anne, we have become quite friendly."
The presumptive GOP nominee also said that it's important for the vice presidential vetting process to play out.
"One of the things about this is that sometimes, if you aren't careful, we've seen in history, that it's harmful to the ticket. And that's one of your first criteria, to make sure that there's nothing out there -- the people who you are really considering that they would not have a harmful effect on the ticket. ... So that is one of the reasons why you look very carefully early on at just about everything and try to get some help in doing it."
McCain also touched on his proposal for joint town hall meetings with Obama, saying, "I think Americans, one of the reasons I wanted so badly to have the town hall meetings, so they have a chance to look at us and respond to them, rather than the sound bites and the spin and the Web sites and the 527s."
A 527 group, named after a section of the federal tax code, is a political organization not regulated by the Federal Election Commission. Such groups aren't bound by federal campaign finance laws as long as they don't directly advocate on behalf of a particular candidate.
McCain has called for 10 unmoderated town hall meetings between now and August. The Obama campaign, however, rejected the proposal.
McCain's campaign recently sent a letter to the Obama campaign urging the debates after receiving invitations by the Ronald Reagan and Lyndon B. Johnson presidential libraries to hold joint town hall meetings.
In a response to the letter Friday, Obama campaign manager David Plouffe said the presumptive Democratic presidential candidate offered to meet McCain at five joint appearances between "now and Election Day." The appearances would include three traditional debates, "plus a joint town hall on the economy in July and an in-depth debate on foreign policy in August."
"That package of five engagements would have been the most of any Presidential campaign in the modern era -- offering a broad range of formats -- and representing a historic commitment to openness and transparency," he said.
In the interview, the Arizona senator also blasted the Supreme Court's decision Thursday to allow "enemy combatants" certain rights -- a major blow to the Bush administration's approach to detainees and their rights.
"I think the United States Supreme Court is supposed to act not on their views of the performance of an administration, but on the most important issues affecting, or how to implement best, the Constitution of the United States. I just am convinced that to treat enemy combatants, who are not citizens, and give them the same rights as an American citizen ... is a decision that will harm our ability to detain and prosecute individuals who are enemy combatants who want to destroy America."

Watch McCain take on the Supreme Court's decision »
When asked what he would do if elected president, McCain said he would work with Congress on legislation that would "define more narrowly the habeas corpus rights of people who we have detained. It's very broad right now. At least try to provide some definition of that so we're not ending up in endless lawsuits."
McCain said he would want to implement the Military Commissions Act, which "does give them the right of counsel, which does give them some access, and I would hope we could get the courts to."
And on the contentious issue of detainees at Guantanamo Bay, McCain said they should be moved out, because the facility has become a "symbol, yes, of the abuse,"
"The reason why I was a sponsor of the act that prohibited cruel, inhumane and degrading treatment was because I was against the torture and this treatment of prisoners. So I can't defend the Bush administration's interpretation of how they could treat prisoners."
E-mail to a friend

All About John McCain • Barack Obama • U.S. Supreme Court