By Paul Steinhauser and Peter Hamby
CNN
(CNN) -- There might be a lot of routes to the White House for Sen. Barack Obama, but just about every one of those electoral roads runs through Michigan.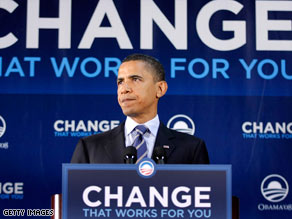 Sen. Barack Obama campaigns in Flint, Michigan, on Monday.
That's probably one reason Obama is in Michigan on Monday and Tuesday as he continues a two-week campaign swing focusing on the economy.
"It's good to be here with so many good friends," Obama told the crowd at his rally in Flint, Michigan, on Monday. After a primary controversy that left some bad blood among Democrats, Obama is hoping that Michigan is still his friend.
Michigan's a battleground -- or swing -- state, one that both political parties will fight for in the presidential election.

Watch Obama speak on globalization in Michigan »
"It will be hard for Democrats to win without Michigan. They've only done it once in the past 50 years. That was in 1976, when Michigan voted for native son Gerald Ford over Jimmy Carter. But Carter made up for it in the South," CNN senior political analyst Bill Schneider said.
Michigan voted for the Democrats in the last four presidential contests, but it's been close this decade. Former Vice President Al Gore won the state by 5 percentage points in 2000 and Sen. John Kerry came away with a 3-point victory in 2004.
The Obama campaign has its eyes on Florida and Ohio, the two crucial states that put President Bush over the top in 2000 and 2004, but it's also exploring other strategies for an electoral victory.
Don't Miss
Just about every map to victory appears to include keeping Michigan and its 17 electoral votes in the Democratic camp. But there could be a kink in that plan -- Michigan and Florida broke party rules by moving their primaries up into January. None of the major Democratic candidates campaigned in either state during the primaries and Obama removed his name from the ballot in Michigan.
Sen. Hillary Clinton kept her name on the ballot, and captured the primary, winning 55 percent of the vote, with 40 percent voting uncommitted. The party penalized both states by refusing to seat their delegates at the party's convention in August.
How to resolve the mess in Florida and Michigan became an issue between Obama and Clinton, with Clinton calling for all the primary results in both states to count and for the states' delegations to be seated in full. Resolution finally came at the end of May, when the party decided to penalize the states by half, seating both states' full delegations, but giving each delegate only half a vote.
Now, with Clinton out of the race, and Obama working hard to bring the New York senator's supporters over to his side, he's facing frustration by many Clinton supporters over how the Florida and Michigan mess was resolved.
And he's also facing a new line of attack from Michigan Republicans.
As Obama took to the trail in Michigan on Monday, the state's Republican Party released an Internet ad needling him over his decision not to campaign in Michigan during the primaries.
"Why did you boycott Michigan for so long?" the ad asks. "You stiffed our voters."
The nearly two-minute video proceeds to highlight Obama's "bitter" comments from a San Francisco, California, fundraiser earlier this year.
"You insulted our way of life," the ad says, displaying assorted images of hunters and churchgoers.
A blog post on the Michigan GOP's Web site said the ad was created "to remind Michigan voters that when they wanted to hear from Barack Obama, he took every opportunity to thumb his nose at them."
In her push to have the disputed Michigan and Florida delegations seated in full, Clinton regularly argued that in a general election, Republicans would hammer Obama for his reluctance to do the same.
"If the Democrats send a message that we don't care about your votes, I'm sure John McCain and the Republicans would be happy to have them," Clinton said at a campaign stop in Detroit in March.
"In fact, the Republicans will argue that Michigan and Florida voters shouldn't trust the Democrats to look out for them when we won't even listen to you," she added.
This week's two-day swing through Michigan follows visits at the beginning of the month and in May. It was at the May stop in Grand Rapids -- before Obama had claimed the nomination -- where he introduced former rival John Edwards, who proceeded to endorse Obama.
The location was no surprise, with Obama telling the crowd, "I know we didn't have a chance to campaign here in the primary. I felt guilty about not campaigning and as a consequence I decided to try to give you something special."
E-mail to a friend

All About Hillary Clinton • Democratic Party • Republican Party