By Bill Schneider, CNN senior political analyst
(CNN) -- When Barack Obama comes to London, I am certain that 50,000 people will turn out to cheer him on,'' a British executive assured me when I visited the British capital recently.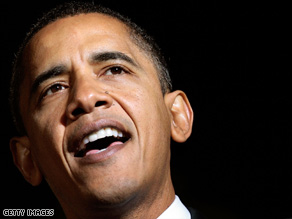 Barack Obama's White House bid has stoked more interest among Europeans than that of his Republican rival
"Americans?'' I asked.
"No, not Americans,'' he responded. "English people. You see, we want change, too.''
Spend a few days in western Europe talking about American politics and you discover that you are in deepest Obamaland. Not much different from Berkeley, California, or the South Side of Chicago.
As a woman put it to me in Paris: "We want America back.''
"Why does that mean Obama?'' I asked her. Her response: "We think he's the black Kennedy.''
What's driving Obama frenzy in Europe? Is it ideology? The educated, well-informed Europeans I met were not entirely sure what Obama stood for. "Is he a socialist?'' they asked. "I don't think he would accept that label,'' I told them.
They worried a little bit about Obama's views on trade. "Is he a protectionist?'' they wondered. "He calls himself a free trader,'' I said, "just like John McCain, although he has been more critical of trade agreements like NAFTA.''
Europeans are not especially anti-McCain. I asked my British informant what kind of response McCain drew when he visited London. "Nothing,'' he responded. "We see McCain as another old man. Just like our politicians.''
Europeans believe their politics has become old, tired, unexciting. Which is, fairly or unfairly, their image of McCain.
To his European fans, Obama is the symbol of American renewal. They know three things about him. That he is young. That he is African-American. And that he has a Muslim name.
Europeans live in countries with large, unassimilated Muslim minorities. The idea that someone with Obama's name and background could become President of the United States astonishes and impresses them. Europeans are thrilled by the idea that the United States can suddenly transform itself from a pariah in the world into an inspiration to the world.
Or can it? Everywhere I went, Europeans asked me if a black man can really be elected President of the United States. I told them many Americans ask me the same question.
My answer? It looks quite possible. We can't be certain. People may be lying to pollsters, and possibly to themselves. But so far, the evidence suggests that at least as many white Americans are voting for Obama because of his race as are voting against him because of his race.
Leaving Amsterdam, I was slightly alarmed when the security agent inspecting my bags asked me to step aside. The agent, a Dutchman of African descent, leaned over the table and asked me in a lowered voice: "Do you think Barack Obama really has a chance to win the election?''
E-mail to a friend

All About Hillary Clinton • Democratic Party • Barack Obama • John McCain • Republican Party