(CNN) -- Sen. John McCain on Tuesday brushed off skepticism from economists and insisted he could balance the budget by 2013 by keeping taxes low and curbing spending.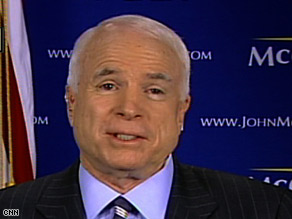 Sen. John McCain says he has a plan to get the economy in order.
"We're going to restrain spending, we're going to have the economy grow again and increase revenues. The problem is that spending got completely out of control," McCain said on CNN's "American Morning."
McCain is in favor of extending the Bush tax cuts, which are set to expire in 2010.
The Center on Budget and Policy Priorities has projected that by extending the cuts, which McCain originally opposed, and including the additional cuts McCain has proposed, the deficit for 2013 would be somewhere around $439 billion to $445 billion.
McCain disputes those figures because "they're static numbers -- not saying that revenues will increase with a strong economy and with low taxes. That's the difference, and I respectfully disagree."

Watch McCain explain how he can balance the budget »
"There's a whole lot of economists, including Nobel laureates, that agree with my plan," McCain said.
On his campaign Web site, the Arizona senator has a list of more than 300 economists who support his economic plan.
"We restrain spending. We keep people's taxes low. We create jobs ... and we'll balance the budget," McCain said.
McCain proposes creating jobs by building nuclear power plants and by developing more clean coal technologies and new automotive technologies.
Asked about the fact that cutting taxes adds to the deficit, McCain said, "You can't seem to get over the fact that it's spending that is out of control, and you restrain spending.
"And also, you can't get over the fact that historically, when you raise people's taxes, guess what, revenue goes down."

Watch what's behind McCain's proposal »
McCain's campaign issued a policy paper Monday detailing its plan to get the "government's fiscal house in order."
McCain's proposal to balance the budget by 2013 rests on three principles: reasonable economic growth, comprehensive spending controls and bipartisanship in budget efforts.
His plan includes a one-year freeze in domestic spending, entitlement reforms and reducing the growth in Medicare spending.
McCain says he'll cut spending by vetoing any bill with earmarks. He also says he'd make a bipartisan effort to reform Social Security.
"I know how to work across the aisle. I've done it with Democrats, and I've done it for many, many years. We'll sit down across the table with the backing of the American people," he said.
The nonpartisan Congressional Budget Office says it is possible to not only balance the budget, but actually have a surplus by fiscal year 2012.
Its prediction uses current law as a baseline, meaning President Bush's tax cuts would expire in 2010 and the Alternative Minimum Tax -- introduced in the '70s to ensure the wealthy pay income taxes -- would affect more middle-income households.
But that's not what McCain proposes. In addition to pledging to extend the tax cuts, he also wants to protect millions of households from being subject to the Alternative Minimum Tax. Congress has repeatedly voted to shield middle-class voters from the tax.
"The chance that he would really balance the budget by the end of his first four years -- near zero," said Robert Greenstein, executive director for the Center on Budget and Policy Priorities.
McCain also shows no indication he's willing to back down in Iraq or Afghanistan, two costly operations.
"To the extent that it becomes possible to draw troop levels down in Iraq, there's going to be a tremendous demand not to bring them home, set them down and not use them, but to swing them, or at least some significant fraction of them, to Afghanistan," said Steven Biddle, with the Council on Foreign Relations.
Even if U.S. troops in Iraq were cut by 80 percent, McCain would still face a deficit of nearly $450 billion, according to the Urban-Brookings Tax Policy Center.
Asked about McCain's proposal Monday, Sen. Barack Obama said he agreed with those who thought it was "overly ambitious" and said he would not make the same pledge.
"I do not make a promise that we can reduce it by 2013, because I think it is important for us to make some critical investments right now in America's families,'' he said.
He also said McCain's plan could increase the national debt by up to $3 trillion over the next 10 years, but experts say the actual effects are hard to pin down.
"It's hard to estimate what their plans would do because they're not really well spelled out," said Roberton Williams, principal research associate for the Tax Policy Center.
His institution estimated the effect of each candidate's plan by presenting each campaign with what it thought the proposals meant, then using that information to develop parameters.
According to that analysis, McCain's plan would result in a revenue loss of $3.6 trillion, while Obama's would lead to a revenue loss of $2.7 trillion over the next decade.
Williams points out that no matter how detailed the candidates' plans are, there's no telling how they will play out because Congress will have a say, too.
CNN senior political analyst Bill Schneider said balancing the budget is no easy task, but discussing it could pay off for the presumptive Republican presidential nominee.
"Balancing the budget involves many tough choices. But it helps McCain position himself as a candidate of change," he said.
E-mail to a friend

CNN's Allan Chernoff and Kristi Keck contributed to this report.
All About National Economy • John McCain